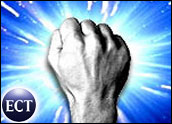 All of the thousands of subpoenas filed by the Recording Industry Association of America in its legal pursuit of accused illegal Internet file traders have been invalidated by a court ruling against the industry association.
Since September, the RIAA has launched three waves of lawsuits against individual computer users alleged to have traded copyrighted music over the Internet using free peer-to-peer (P2P) services, such as Kazaa and Limewire.
The association has used subpoena powers based on the Digital Millennium Copyright Act (DMCA) to issue nearly 3,000 subpoenas to ISPs to identify infringing users, according to Electronic Frontier Foundation staff attorney Wendy Seltzer, who called the federal appeals court ruling "an early holiday present."
DMCA Not Applicable to P2P
"It means that the ISPs who have gotten the subpoenas can ignore them and that the recording industry and other copyright holders can't keep [churning] out D.C. District Court subpoenas for P2P users," Seltzer told TechNewsWorld.
The court found that the subpoena provisions of the controversial DMCA did not apply to private communications on a subscriber's computer or the P2P applications and networks used for music file sharing.
The RIAA, nevertheless, said it will continue its campaign and added that the decision "unfortunately means we can no longer notify illegal file sharers before we file lawsuits against them to offer the opportunity to settle outside of litigation," according to a statement from RIAA president Cary Sherman. "We can and will continue to file copyright infringement lawsuits against file sharers who engage in illegal activity."
Lawmakers Agree
The RIAA, which has referred to previous victories in the Verizon case when challenged by other service providers reluctant to rat out users, called the decision "inconsistent with both the views of Congress and the findings of the district court."
However, at least two lawmakers expressed support for the ruling and disapproval of the RIAA's tactics, which have been credited with turning some people away from illegal filesharing while also turning the RIAA into a pariah.
"The decision by the U.S. Court of Appeals for the District of Columbia reaffirms my belief that the solution to the challenges facing the recording industry will not be solved primarily through litigation," said U.S. Sen. Norm Coleman (R-Minnesota).
Rep. Rick Boucher (D-Virginia) called the ruling a victory for the privacy rights of Internet users. "Under the decision, subpoenas will not be issued without access to judicial supervision in instances in which the privacy rights of individual Internet users are potentially at risk," he said.
No Tattling
The RIAA's onslaught of subpoenas has been met by protest from Verizon, SBC's Pacific Bell and several other ISPs and industry groups that expressed concern over user privacy, liability and the expense of providing the information.
"This decision removes the threat of a radical, new subpoena process that empowers copyright holders or anyone merely claiming to be a copyright holder to obtain personal information about Internet users by simply filing a one-page form with a court clerk," Verizon vice president and associate general counsel Sarah Deutsch said in a statement.
Verizon, which lost a lower court ruling last January before appealing the case, said copyright holders seeking personal information about Internet subscribers now will have to file a traditional lawsuit.
"These requests will undergo scrutiny by a judge, thus preserving the privacy, safety and legal rights of every Internet subscriber," Deutsch said.
Still Suing
The RIAA's Sherman, in a defiant statement, said that regardless of the decision, the group plans to maintain its strategy of suing individuals.
"We will continue to defend our rights online on behalf of artists, songwriters and countless others involved in bringing music to the public," he said.
Seltzer said the suits will be different "John Doe" cases, however, and basically will involve identification of accused illegal file traders after a lawsuit is brought, rather than before.