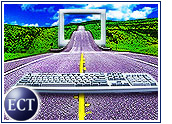 The rate at which Americans are adopting cable and DSL high-speed Internet connections and going online slowed at the end of the year. But this slowing rate of growth is balanced by U.S. subscribers using the Internet for more types of activities, such as online banking and financial transactions, which grew more than any other genre of activity.
Two new reports, one from the Federal Communications Commission and the other from the Pew Internet & American Life Project, indicate that the rate of broadband adoption and the growth of the U.S. Internet population both are slowing. The FCC said the number of business and home broadband Internet lines grew by 18 percent in the second half of 2003, down from 23 percent in the second half of 2002. Pew reported almost no growth in 2002 and only a small uptick in 2003 in the U.S. Internet population.
However, Pew found Americans' interest and experience in the financial side of the Internet has increased dramatically, particularly as financial and transactional activities, such as banking, have increased more than other online activities. "As the online marketplace has matured, financial and transaction-based activities have grown more than any other online pursuit," Pew said in reporting the results of its three-year survey.
High-Speed Slows Down
While the FCC indicated in its most recent data that both cable and DSL broadband connections to U.S. homes and businesses continue to increase, the rate has slowed. For the year ended June 30, 2003, high-speed connections increased 45 percent to 23.5 million lines. Growth in the first half of 2003 stood at 18 percent.
The number of DSL lines increased by 19 percent during the first half of 2003 to 7.7 million, while cable connections increased 20 percent during the same period to 13.7 million lines. Both increases were down from increases during the prior six months and yearly growth rates of 50 percent and 49 percent, respectively.
Yankee Group senior analyst Dominic Ainscough told TechNewsWorld that both forms of high-speed service are competing on price, with cable companies offering promotional periods of lower rates and DSL delivering cheaper high-speed service that is dipping into the US$25 range.
"It's a battle of pricing models, and neither side is winning at this point," Ainscough said.
Becoming Broadband
Pew Internet & American Life Project director Lee Rainie told TechNewsWorld that broadband is a true differentiator among Internet users, allowing those with speedier, always-on connections to do more online.
"It cannot be overstated: When people get broadband connections at home, they become different Internet users," Rainie said, referring to increased online activity, such as checking the weather, booking reservations, using online directories or even using cooking recipes from the Internet.
Rainie also said the speed and bandwidth of broadband connections also open doors to more efficient downloading, streaming, uploading, game playing and other multimedia applications.
Convenient Connections
While e-mail — which Pew still describes as the Internet's "killer app" and which Rainie described as a gateway technology that introduces new users to the Internet's power — and information gathering grew among Internet activities from 2000 through this year, banking and financial transactions grew the most.
Online banking increased by 127 percent between 2000 and 2002, with only 15 million users having tried some form of online banking in March 2000 but 34 million having done so in October 2002, according to Pew.
"The story with banking is people love the convenience of it," Rainie said. "The other thing is, so many banks have created these services that are easy to use — it's a supply-side story and a demand-side story."