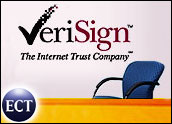 Despite the misgivings of smaller domain-name registrars that stand to lose revenue and control over domain names that expire, the Internet Corporation for Assigned Names and Numbers (ICANN) is considering approving a controversial service by VeriSign.
At its meetings to be held in Rome, Italy, next week, ICANN's board of directors is scheduled to take up the topic of the wait-listing service (WLS), a proposal from VeriSign that prompted competing registrars Dotster, eNom and GoDaddy to sue. The case was dismissed late last year.
Although she said the other registrars have done a good job of protesting WLS, which they argue would give VeriSign even more monopoly power over the distribution and administration of .com and .net domain names, Gartner analyst Lydia Leong added that the WLS service from VeriSign is highly likely to win approval.
"At this point, by and large, the other registrars have lost their battle with ICANN," Leong told TechNewsWorld. "I think this sort of thing (the WLS) is here to stay. The basic service is there."
Move Makes Sense
The WLS service, which would allow domain-name registrants to go directly to the source and pay the registrar for the right to claim a particular domain if it expires, represents the formalization of waiting lists already in use by many registrars, according to Leong.
"It's really a more efficient way of providing something that already exists," she said.
The analyst added that from a pure business perspective, the WLS service is necessary and would be a good move by ICANN.
"It regularizes the way in which domain names expire and how they change hands," Leong said.
Playing Monopoly
While she said the new service has minimal implications for consumers and businesses — which would not be in jeopardy of losing existing domain names and would benefit from a grace period after domain-name expiration — Leong did indicate registrars other than VeriSign have much to lose.
"The issue at hand is this is much, much better for VeriSign than for any other registrar because of their registry control," Leong said, adding that there is little those registrars can do if the service wins ICANN approval.
"There isn't really any backlash possible because VeriSign's monopoly forces other registrars to be their customers," she said. "Every other registrar is completely dependent on VeriSign for their business."
Fundamental Problems
VeriSign, which administers the .com and .net top-level domains, is no stranger to resistance to its services. Last September, the company caused uproar with its SiteFinder service, also known as wildcard functionality, which delivered a VeriSign site instead of the traditional error message for a mistyped or nonexistent Internet address.
The company halted the service after the Internet outcry and an ICANN warning over potential contract issues.
ICANN spokesperson Kieran Baker told TechNewsWorld that the ICANN board of directors will comtemplate the wildcard service as well as WLS when it meets in Rome in the first week of March. Referring to the final stages of negotiations with VeriSign on the WLS, Baker said dealings between the board and the Mountain View, California-based company are available to industry and the public for consideration.
Gartner's Leong, who indicated VeriSign's registrar rivals have significant revenue streams at stake over the issue, said the wait-listing service points out flaws in the ICANN oversight.
"It's really a deeper issue of Internet governance," she said. "At the moment, it's one of the issues that is really about fundamental problems with the way ICANN is governed and managed."