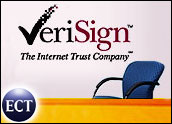 Consternation over VeriSign's plan to redirect mistyped or nonexistent domain name requests has progressed to a call from the International Corporation for Assigned Names and Numbers (ICANN) to suspend the service and a US$100 million lawsuit from a company claiming damages from it.
VeriSign's new "wildcard" service, called SiteFinder, is intended to return useful information rather than the standard domain-not-found error message when Internet users type in a misspelled or unregistered domain name, according to the company, which oversees the biggest registries for the top-level domains .com and .net.
However, the service has infuriated most of the Internet community, including spam fighters and network administrators who claim it is a departure from accepted practice and fouls technical workings of the Internet. As a result, ICANN, which oversees all domain names, has formally asked VeriSign to suspend the service.
SiteFinder also prompted Florida-based Popular Enterprises, which claims its revenue has been cut in half by the service, to file suit in U.S. District Court against VeriSign, claiming antitrust, unfair competition and violations of the Deceptive and Unfair Trade Practices Act.
Business as Unusual
Since the SiteFinder service was launched a week ago, it has come under fire from many directions, but the chief complaint is that the service represents a major change in how Internet traffic is handled.
Gartner research director Ray Wagner told TechNewsWorld that although VeriSign did not break any rules or laws with the service, it did break from the Internet community's regular way of doing business.
"There's no question that this caught a lot of people by surprise," Wagner said. "People have built business models around it, and you can't fault VeriSign for coming up with its own business model around bad domain calls, but it makes the Internet more brittle."
Architecture Violated
Much of the initial resistance to the new service came in the form of technical workarounds and software for network administrators designed to circumvent SiteFinder.
The Internet Software Consortium, publisher of the Berkeley Internet Name Domain (BIND) software that powers most domain name servers, released a patch that prevents VeriSign's service and delivers the traditional error message.
The consortium said in an advisory that although domain name server behavior is not specified by the Internet Engineering Task Force (IETF) — one of the standards-setting bodies for Internet operations — there are many architectural assumptions about traditional DNS that are "deeply embedded in the behavior of Internet protocols and applications."
The group goes on to say that although use of DNS wildcards in ways that violate those assumptions has long been possible, VeriSign's plan shows that the cost of doing so is "significant."
Suspension Requested
ICANN, which oversees the policy associated with distribution and administration of the central domain registries, has never endorsed the SiteFinder service. The organization said it is monitoring community reaction and technical effects of the wildcard service.
While ICANN said it is reviewing the terms of the .com and .net registry agreements with VeriSign, the organization also has requested advice from its Security and Stability Advisory Committee and from the Internet Architecture Board on SiteFinder's impact.
In the meantime, the group called for VeriSign to suspend the service "until the various reviews now underway are completed."
ICANN spokesperson Mary Hewitt told TechNewsWorld that the group has not yet received any response from VeriSign, which did not indicate any intention to halt the service.
SiteFinder Lawsuit
VeriSign's wildcard service was also the basis for a lawsuit filed late last week by Popular Enterprises, which claims it is losing significant business as a result of SiteFinder.
Popular Enterprises, which runs the Netster search engine, has lost well over half of its revenue from pay-for-click search results that have been eliminated by SiteFinder, company spokesperson Robert Hart told TechNewsWorld.
The company is alleging antitrust, unfair competition and violations of the Deceptive and Fair Trade Practices Act in its $100 million suit, which also calls for an injunction to stop VeriSign's service.
Heavy Use
VeriSign spokesperson Tom Galvin told TechNewsWorld the company is not suspending the service because it thinks it would be premature in light of technical progress it has made.
Galvin, who reported SiteFinder generated 65 million visits in its first week with an average of four to seven million unique visitors per day, said VeriSign is forming a technical review committee for the service, which will gather technical information and study issues that have arisen since SiteFinder's launch.
"We are very pleased with the way Internet users have used the site," Galvin said.