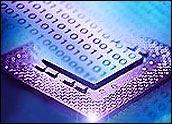 Taiwanese chipmaker Via Technologies announced its new line of low-powered Nano processors, formerly codenamed "Isaiah," Thursday. The new processor family offers up to four times the performance of Via's C7 processor line while featuring the same power requirements, the company said.
Aimed primarily at the low-cost PC and ultra mobile PC markets, the Nano will vie with Intel's Atom chip for business from original device manufacturers (ODMs) and original equipment manufacturers (OEMs) such as HP and Asus.
"This is very cool that they have released [Nano] finally," said Ian Lao, an In-Stat analyst.
Announced in January, the release finally puts the Nano in the hands of ODMs and OEMs, he added.
Systems featuring Via's Nano processors are expected to hit store shelves in the third quarter of 2008.
Power Play
The line of 64-bit processors include a superscaler speculative out-of-order architecture. This enables the processor to execute more than one instruction at a time and significantly boosts performance. Based on Fujitsu's 65-nanometer process technology, the chips offer increased performance balanced by enhanced power efficiency.
Five processors make up the new single-core Nano chip line, including two L-series (low voltage) processors for mainstream desktop and mobile PCs and three U-series (ultra low voltage) processors for small form factor desktops and ultra mobile devices.
Multimedia performance also receives a boost in the Nano with the high-speed, low power Via V4 Front Side Bus, starting at 800 MHz, plus a high floating point unit, support for new SSE (Streaming SIMD Extensions) instructions, and two 64 KB L1 caches and 1 MB exclusive L2 cache with 16-way associativity.
Battery Life
Via's long-term mindset in the embedded market has been to acknowledge that consumers carry around their small electronic devices and may not have access to a power source, explained Lao. "These guys get the fact that you're not always going to be near power, and you have to maximize that, balancing out a deployment with good enough battery life."
That, he told TechNewsWorld, has been the Achilles heel of dual-core and quad-core chips — those processors are not exactly friendly to the small batteries found in consumer electronics. "They're pretty good for PCs, where the expected lifetime on a battery is four to five hours. Consumer expectations for battery performance on a device are growing."