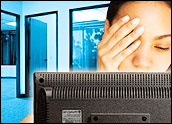 For the eight Florida teens accused of imprisoning, beating and videotaping 16-year-old Victoria Lindsay as they brutalized her for more than half an hour, the events of March 30 have led to kidnapping and battery charges that cast a dark shadow over their future.
For the rest of the world, the case has shone a bright light on the negative potential of the Internet.
The case has attracted media attention far and wide and has caused many to ask difficult questions about how the beating could have happened, what went wrong in this group of children, and what role the technology played.
Kidnapping and Battery
Six teen girls — several of whom had accounts on MySpace — are accused of filming the beating of Lindsay and threatening to post it on MySpace and YouTube. The reason for the beating, according to Polk County Sheriff Grady Judd's office, was that the girls were upset with Lindsay for "trash-talking," the Polk County-based Ledger reported.
April Cooper, 14; Brittany Mayes, 17; Kayla Hassell, 15; Brittini Hardcastle, 17; Cara Murphy, 16; and Mercades Nichols, 17; were all arrested on charges of felony battery and false imprisonment, according to affidavits. Mayes, Hardcastle and Nichols were also arrested on charges of kidnapping on suspicion of forcing Lindsay into a vehicle and dropping her off at another location.
Two boys, Zachary Ashley and Stephen Schumaker, are accused of acting as lookouts during the beating. They were also arrested on charges of felony battery and false imprisonment.
Trial as Adults
Lindsay was treated that night for a concussion along with damage to her left eye and ear.
Video footage of the beating was obtained by the Sheriff's Office on April 2. Earlier this week a Polk County Circuit Judge J. Michael McCarthy issued a gag order on information about the case.
On Thursday, the Florida state attorney's office determined that all eight teens would be tried as adults, the Ledger reported. In addition, three of the teens have now been additionally charged with tampering with a witness.
The Role of Technology
Since the beatings came to light, Lindsay's parents have spoken out against MySpace and YouTube, charging that such technology has gone "too far."
The two companies, however, have said the video in question was never posted on their sites, but that if it had been, it would have violated their terms and conditions.
"Cyberbullying and harassment are a violation of MySpace's terms of use," said Hemanshu Nigam, chief security officer for MySpace.
To enforce its terms, MySpace reviews every image and video that is hosted on its site, Nigam added.
"To our knowledge, the mentioned video was never hosted on MySpace," he said. "However, since the alleged assailants had MySpace profiles, we are working with the Polk County Sheriff's Department to assist their investigation."
YouTube could not be reached for comment.
'Not a Cybercrime'
One-third of all teens who use the Internet have been the victims of cyberbullying, or harassment online, according to a recent study from the Pew Internet & American Life Project.
Yet in this case, the crimes and bullying were committed in person, making the technology's role a bit unclear.
"This is not a cybercrime," Parry Aftab, cybercrime lawyer and executive director of WiredSafety.org, told TechNewsWorld. "It's assault and battery, and we have good, solid laws to deal with it."
What's crucial, Aftab added, is that it is viewed as a real crime.
'15 Megabytes of Fame'
This type of case "is very common — so common that I'm surprised there's all this noise about it," Aftab said. "I see it every day, several times a day, and that's been true for years."
Go to either YouTube and MySpace and search videos on the term "fight," for example, and you'll come up with a long list of such scenes, Aftab said.
YouTube works on a "flagging" model, whereby videos are only removed if someone reports them and they are found to violate the site's terms and conditions, Aftab noted. Regarding Nigam's assertions about MySpace, however, "to my knowledge, MySpace does not prescreen all images and videos," Aftab said. Rather, "they spot-review certain images."
Kids who perpetrate crimes like this are "totally disconnected from the reality of what they're doing," Aftab explained. "They think they're good kids, just playing for their 15 megabytes of fame. They also see this kind of thing all the time around them in the media, and when you talk to them, you can see they just don't get it."
A brief search of the first several pages of YouTube results for the search term "fight" turned up no examples of the type of footage Aftab is discussing, however — flagged or unflagged.
When it comes to victimization online or off, adults also tend to ignore peer-to-peer attacks, Larry Magid, founder of SafeKids.com and codirector of ConnectSafely.org, told TechNewsWorld. Magid is also co-author of MySpace Unraveled: What it is and how to Use it Safely.
"We tend to think of 'the big, bad adult' exploiting children, but actually in the area of Internet exploitation, we know that peer-to-peer bullying and sexual solicitation far outweighs the frequency of adult-to-child attacks," Magid added.
Incentive to Victimize?
Either way, the fact that the accused specifically threatened posting the video online is a testament to the power of the Internet, both as a tool for wide-reaching humiliation and as a source of online fame.
"The existence of this global distribution mechanism is certainly one more incentive for those looking to victimize people," Magid noted.
"The posting of violence and abusive conduct are a byproduct of the sheer omnipresence of the Web where anyone can get their Warholian allotment of fame," technology attorney Raymond Van Dyke told TechNewsWorld. "Fortunately, the authorities have an easy case with the evidence quite manifest."
No Magic Bullet
Looking ahead, it's not clear how other attacks of this nature can be prevented.
"I wish I could say there's a magic bullet," Magid said.
"Education and consciousness-raising in schools, as part of the curriculum," is one step that should be taken, he said. "People need to understand that certain behaviors are just not acceptable."
It's also been found that perpetrators of crimes like this end up with a greater chance of being victims themselves, Magid noted. "Nothing justifies what happened, but when you behave badly or rudely yourself, it does increase your risk," he explained. "It's something to tell your kids."
'Someone Is Going to Get Killed'
One critical factor will be following up on what happens to the accused after trial with as much media attention as has been given to the original event, Aftab said.
"If kids learn they'll lose their online accounts and may face jail, and that they won't be famous for anything other than how they ruined their lives, that may change their minds," she noted.
Aftab is also putting together a "huge core of new volunteers who will do nothing but review the Internet to find these images and demand that the sites take them down," she said.
"All the networks say they don't allow these things to be posted, but they are posting them," she explained. "I'll find them for them, because this has to stop. Unless we all do this, it's not going to happen, and someone is going to get killed."
Lasting Effects
Throughout history, people have always physically harmed each other, Magid concluded; the difference now is that it's so easy to distribute and preserve the event for all time.
"You can not only inflict the pain and humiliation of a beating, but you can repeat that through perpetuity by putting it on the Net," he said. "That's what happened to this victim, and now she will be remembered forever as the girl who took this awful beating. That victimizes her far beyond the physical pain."