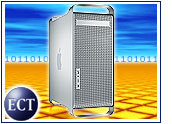 Virginia Tech's decision to build a supercomputer out of 1,100 Apple Power Mac G5s — a true break from the architecture of traditional, mainframe supercomputers — allowed the university to cut its costs in half. According to researchers, the supercomputer represents a new model for ultra high-end computing in science and research.
Virginia Tech's dual 2-GHz G5-based supercomputer, unofficially ranked this week as the world's third fastest supercomputer at 9.555 teraflops, is getting even faster as the project team optimizes the system, which represents the first-ever Mac-based contender among supercomputers.
The G5 cluster supercomputer project — which Virginia Tech College of Engineering dean Hassan Aref told TechNewsWorld cost as much as 10 times less than a project with a traditional machine in the same class — most likely will be emulated because it currently ranks as the fastest supercomputer at an educational institution.
"It will allow calculations that have been difficult on other clusters," Aref said, adding that the supercomputer will be used for research on nanoscale electronics, quantum and computational chemistry, aerodynamics, molecular modeling and more. "It will allow us to peer into the next level of research."
Distributed Trend
The rapid deployment of the project — built using Power Mac G5s shipped less than two months ago to the institution — is also lending credibility to a new kind of supercomputer architecture, which mirrors an overall trend in IT toward distributed computing.
Yankee Group senior analyst Dana Gardner told TechNewsWorld that the idea of spreading computing tasks across numerous machines is a trend in both supercomputing and grid computing.
"It's really recognizing that this paradigm has a lot more flexibility and power," Gardner said. "Applications can accomplish the computational needs with less cost and still have the opportunity to be flexible."
The old approach to supercomputing, which Gardner termed "monolithic mainframes," left researchers locked in to platform and tools, the analyst said.
Something New
Aref said the project is not only the first supercomputer based on Apple computers. It also represents other new technologies, including Apple's latest OS X operating system, networking hardware from Cisco, new rack-mounted cooling from Liebert, and custom software to help the cluster run big jobs.
Project leaders, who have dealt with instability issues of the distributed system using InfiniBand interconnect architecture, believe the G5 supercomputer will serve as an example for other institutions looking for increased compute power at a lower cost.
Gardner said the PowerPC G5 processor — a collaboration of Apple and IBM — has a proven and viable architecture, adding, "there's no reason why it wouldn't be a clear alternative to other architectures."
Mac Choice and Management
The deal for a G5-powered supercomputer — which Virginia Tech's Terascale Computing Facility director Srinidhi Varadarajan sought after working unsuccessfully with Dell, Intel, HP, Sun and others — has prompted Apple to seize on a new potential market.
The company had a representative at the BioSilico 2003 conference in California this week, where the intersection of science and IT was the subject.
Gardner said that while the power, economy and flexibility of clustered systems offer clear advantages, the biggest hurdle lies in the management of those clustered resources. However, the analyst said, that is a common issue that is being addressed as clustering and high-availability computing continue to grow.
Gardner also said the acceptance of the new supercomputing approach, which takes advantage of hardware, middleware and other advances, depends largely on the view of developers who see a future creating applications for the architecture.
"As long as there is trust in the longevity of the approach, it will continue," he said.