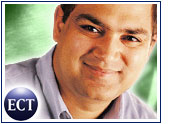 The Federal Communications Commission (FCC) has kept Voice over Internet Protocol (VoIP) technology free from the same regulatory requirements and fees charged to traditional circuit-switched telephone carriers, but the agency also has been considering how much VoIP purveyors must pay for use of local exchange networks.
In a recent interview, Yankee Group senior analyst Zeus Kerravala referred to the blurred lines between the Internet's VoIP and the traditional voice traffic carried over older networks, indicating that the entire telecom industry's future as well as the larger economy may be at stake.
For now, however, both VoIP and traditional voice calls will rely on one another's infrastructure — at least to some extent — to make connections. "Once it really leaves the end consumer, it's really difficult to tell right now what happens to it," Kerravala told TechNewsWorld, noting that the impact of long-overdue VoIP and Internet data traffic regulation will spread beyond the telecom and IT players involved.
While it appears that the FCC and other governmental oversight bodies are leaving VoIP largely free from regulatory barriers, the remaining technical challenges force the newer, packetized technology to rely on the older, circuit-switched infrastructure.
Technical barriers notwithstanding, VoIP is on the rise and will bring high-quality communication services to many users and devices but will not necessarily mean the end of the old networks, according to Virtela Communications CEO Vab Goel, who talked with TechNewsWorld about the current issues facing VoIP.
TechNewsWorld: Some have predicted that while it will take some time, eventually all voice communication will be conducted over IP networks. Do you agree?
Vab Goel: Eventually, yes. For the foreseeable future, there's no doubt that VoIP will grow in acceptance and importance. But keep in mind that we are in year eight or nine of a 25-year infrastructure shift. For the next few years at least, integration with the old circuit-switched networks will be the key emphasis.
Ultimately, VoIP will garner the bulk of voice communications. That said, it's unlikely that the old Public Switched Telephone Networks (PSTNs) will wither and die completely in the next 10 to 15 years. Just think, we are still relying on plenty of technologies that were expected to be subsumed by this point, such as mainframes. It's clear that in order for VoIP to be successful, PSTNs don't have to die.
TNW: How long until that is likely to happen?
Goel: From a carrier perspective — backbone to backbone, where everything in the core is VoIP — we are about 10 to 15 years out. Within the enterprise — using VoIP for branch-office-to-branch-office communications — is also 10 to 15 years away.
From a consumer perspective, using VoIP on a global basis, it's probably beyond 25 years.
TNW: What about in the meantime? There seems to be confusion about how much VoIP relies on the old circuit-switched telephone and local exchange networks and how much the old networks rely on VoIP. What's the situation?
Goel: We are at the tip of the iceberg here. VoIP's benefits are proven, but in reality, from an end-user perspective, there are very few end-to-end VoIP calls being conducted today. Clearly, there is a major reliance on the old telephone networks. From a consumer perspective, we are far from the day when a VoIP user will be able to look up any number, dial and connect purely via VoIP. End-to-end VoIP calling is still limited to a particular community — such as Yahoo instant messaging — and particular geography.
One stat: Internet phone services account for no more than 1 percent of total lines today, but they are predicted to leap to 27 percent of phone users worldwide by 2008, according to Probe Research. So the writing is on the wall, but we're still a long way from achieving a "VoIP dial tone" that supplants plain old telephone service.
From an enterprise perspective, the outlook is much more promising in the short term. Carriers are aggressively migrating their infrastructures to carry more VoIP traffic, and, make no mistake, VoIP is being used for mission-critical applications today — such as call-center-to-call-center connectivity, particularly on an international basis.
TNW: What do you see happening going forward?
Goel: Slow and steady adoption by consumers; fast and furious adoption by enterprises and carriers.
TNW: With much of the regulation and requirements of VoIP and other IP communication services up in the air, what do you see as the likely outcome?
Goel: It's very unlikely that VoIP will be regulated in the end. As a practical matter, it's almost incomprehensible. For example, how can you regulate a user using open-source software to make PC-to-PC voice calls within the same neighborhood?
TNW: What are the biggest technical hurdles for VoIP and other IP services — quality, infrastructure, adoption or something else?
Goel: The biggest technical hurdle is in the infrastructure, which has a cascading effect on quality and, thus, adoption. The broadband infrastructure is still first generation and built for huge oversubscription. Carriers may advertise 1 Mbit, but in practice you'll only get a subset of that bandwidth. VoIP will only take off when there is adequate, dedicated bandwidth and next-generation equipment that provides a higher level of compression and functionality to deal with congestion.
TNW: What about plans such as Skype's to take VoIP to handheld devices? Is this a significant step?
Goel: It is a good first step. But again, it's limited to a certain community of WiFi users. It doesn't allow you to shut down your cell-phone service — yet. You'll see a barrage of competitors enter the market, and it will be pervasive, but it will take time.
TNW: Do you think the combination of WiFi and VoIP is a good one?
Goel: Yes, but it's only one option. You'll see different technologies adopted by different user groups across different geographies.
TNW: What other communication services are possible or will be possible with IP technology?
Goel: IP is the only technology that can take any service requiring a dedicated infrastructure and support it. The beauty of IP is the wealth of other applications and services that can be layered over it, such as video over IP. You'll see IP video moving into the mainstream over the next two to five years from both an enterprise and consumer stance. HDTV-quality video and CD quality for VoIP will be possible.
TNW: As we rely more on IP for voice and other communication, what will happen to the existing circuit-switched networks?
Goel: Again, these will likely be around for many, many years. But again, the existing networks do not have to shut down for VoIP to be successful. They will coexist for a long time.
TNW: Anything else you would like to add?
Goel: IP will drive the integration of different networks and the creation of new applications. But for the next few years, people should be focused more on being able to do what we do now much more efficiently and less on finding killer applications. Enterprises already have business-critical applications; they need to solve issues around integration, drive more efficiencies and increase ROI.