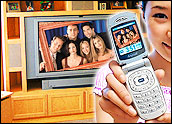 Vodafone UK and British Sky Broadcasting Group struck a deal unveiled this week that will provide mobile television service in the UK with news, music videos and other entertainment offered in a hot, but untested space.
The companies said Sky MobileTV will give 3G handset users access to 19 mobile channels, including Sky News, MTV, Cartoon Network and Discovery, as well as live mobile coverage of England's cricket team.
Analysts said such offerings are attractive to mobile carriers looking for additional revenue streams, and to content companies looking to deliver new services. However, it remains to be seen whether consumers are willing to pay for television content they can get elsewhere, which may include larger screens and laptops at WiFi hotspots.
"There's a lot of interesting early interest, but there are a lot of caveats," Gartner research director Mike McGuire told TechNewsWorld. "In the U.S., in the European Union, and in Asia-Pacific, there are so many options for people to get rich media, you have to be careful."
Mainstream Mobile TV
Despite the gamble on an unproven market, Vodafone and Sky indicated the industry was ready for the mobile TV service, which will be offered free until the end of January next year to Vodafone customers in the UK. After that, customers will be charged per month fees for various Sky Mobile TV packs, which include news or entertainment-focused options.
"This is not a trial on a very limited number of phones or a service available on a single make of mobile, but something that all our Vodafone live! with 3G customers can experience," said a statement from Vodafone UK chief marketing officer Tim Yates. "We currently have over 250,000 3G subscribers in the country and 72 percent 3G population coverage across the UK. Mobile TV will be a mainstream service."
The Big Question
Gartner's McGuire said the prospect of mobile TV is tantalizing to both wireless carriers and content providers.
"What is the big, unanswered question is what is the demand going to be for this content, and what content will people be willing to regularly pay for?" he added.
McGuire said his company's surveys indicate that early adopters enjoy mobile TV and count it among the more important applications of their mobile devices.
However, that priority and patronage could change with another feature, or with less expensive options.
"They may also find something else," he said, referring to readily available television access and the potential for video on a larger screen via notebook computers at WiFi hotspots.
Content Differs, Rules
McGuire also referred to different tastes in different regions. In Italy, for example, the more prevalent 3G wireless capabilities have paved the way for popular person-to-person video conferencing. In the UK, where Vodafone and Sky will be offering their service, the most popular use of mobile handsets is music.
Yankee Group senior analyst Mike Goodman pointed out that new mobile video rollouts, including Apple's video iPod, provide content owners a chance to safely test the new market. However, he added, the success of such efforts will be based less on technology and more on content.