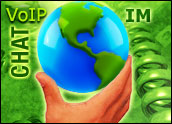 Voice over Internet Protocol (VoIP) sellers anxious to keep offering voice and data services using the Internet are asking the federal government to continue to refrain from regulating the industry.
The Federal Communications Commission (FCC) has kept VoIP free of the same regulatory requirements and fees charged to traditional circuit-switched telephone carriers, but it is considering how much VoIP purveyors must pay for use of local exchange networks. A group called the Voice on the Net (VON) coalition is urging commissioners to hold the phone.
"VoIP is not another flavor of telephone service," said Intel communications policy director Peter Pitshch, whose company is among other VON members, including AT&T, MCI, Texas instruments and smaller VoIP companies. "It's a new frontier in communications for individuals and businesses alike, and it requires forward-thinking regulatory approaches."
Yankee Group senior analyst Zeus Kerravala, however, said VoIP is telephone service and, referring to the blurred lines between Internet and traditional system voice traffic, he indicated the entire telecom industry's future and the larger economy may be at stake.
"It is another flavor of phone service — you're still making calls," Kerravala told TechNewsWorld regarding VoIP. "It is a voice service, and for the sake of the economy, they have to regulate it."
Trumpeting a Light Touch
Touting the cost savings and consumer benefits of VoIP competition and innovation, the VON coalition expressed concern that ongoing policy reviews could lead to new regulatory barriers that would slow VoIP adoption. VON asked policymakers to refrain from applying traditional telecom regulation that could stifle VoIP benefits.
Verizon spokesperson Larry Plumb told TechNewsWorld that his company shares the "light touch" vision for VoIP regulation, adding that calls made strictly over the Internet should not incur fees. However, Plumb said that when voice traffic is handed off to the traditional telephone network, the phone company must be paid.
"This is, at this point in time, an acceptable rate for carrier compensation," Plumb said of current access charge fees of less than 1 U.S. cent per minute. "[All traffic] may move to the Internet someday, but in the meantime, that's how it is and that's the acceptable rate."
A Question of How Much
Gartner analyst Ron Cowles told TechNewsWorld that while there is no desire to heavily regulate VoIP, there is an effort to avoid deregulating the services. Cowles reported that while the current average access charge is .75 cent per minute, the FCC has hinted it might charge VoIP providers .5 cent per minute, a rate Cowles called reasonable.
Cowles also said the FCC clearly is looking to charge VoIP providers some kind of access fees if their services are at all dependent on the traditional phone system.
"It's going to be a matter of how much," he said.
Lines Getting Crossed
The Yankee Group's Kerravala, who referred to benefits of continued lax regulation of VoIP for companies such as Vonage, said he envisions a future when all voice and data traffic travels via Internet Protocol.
For now, however, Kerravala said both VoIP and traditional voice calls rely on one another's infrastructure to make connections.
"Once it really leaves the end consumer, it's really difficult to tell right now what happens to it," he said.
The analyst — who pointed to the differences between VoIP packet-switched networks and older circuit-switched ones — also noted that the impact of long-overdue VoIP and Internet data traffic regulation will spread beyond the telecom and IT players involved. Kerravala warned of harming companies such as Verizon and Qwest by taking away access fees.
"I think it has a much broader impact on the economy than someone making a call for a few cents cheaper," he said. "[VON] can argue that the competition is good, but telecom is so precariously unhealthy, any more doses of bad health could cripple it."