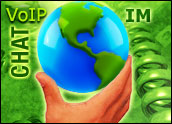 Voice over Internet Protocol vendor Vonage announced Thursday that it will begin selling a portable VoIP phone that plugs into any PC for voice communications.
The new V-Phone, US$39.99 with a $9 activation fee and $15 to $35 service plan for varying numbers of minutes, works wherever users have USB access to a notebook or desktop PC linked via a broadband connection to the Internet.
Vonage — among a handful of other VoIP companies including chief competitor and eBay subsidiary Skype — is aiming the new device and service offering at small business users, college students and teenagers. However, the most important target is the enterprise.
Virtual Mobile Office
Unlike VoIP phones of the past, the V-Phone is not limited to PC-to-PC calling. Rather, it can connect users to others regardless of whether they are using traditional voice phones, mobile phones or VoIP, according to Vonage Senior Vice President of Engineering Daniel Smires.
The V-Phone, which also carries contacts and call history data, allows users to check voicemail and send voicemail attachments with PC e-mail or BlackBerry accounts.
The phone, which works only with Windows platforms, could cut voice communication costs, such as mobile phone roaming charges or hotel calling fees, the firm said.
Networks and New Features
The V-Phone is a good idea for businesses; it may be especially appealing as enterprises deal with the incompatibility issues presented by different IP network carriers, Yankee Group Senior Analyst Zeus Kerravala told TechNewsWorld.
"That just makes these type of network-independent service providers better," he said.
VoIP has progressed in quality and must now begin demonstrating advantages over traditional voice communications apart from cost, according to Kerravala.
"Innovation and enhancements are what's next," he said. "I think manufacturers should stop talking so much about technology, and talk about user experience — that's what's going to make this move [successful]."
The portable contact and call history with Vonage's V-Phone, for example, is a good start, he said.
Standard Tools
With the ever-increasing communication and data role of Internet protocol (IP) networks in corporate IT, VoIP is sure to be pushed along too, IDC Director of Mobility Research Shiv Bakhshi told TechNewsWorld.
Voice quality and device technology have advanced; however, beyond cost, the argument in favor of VoIP remains elusive, he said.
"The business case is the issue — not the technology," he said.
Though adoption will not be instantaneous or wholesale, Bakhshi said the new standard tools for workers in the next five years are expected to include an all-in-one, multi-modal mobile phone that is VoIP capable.