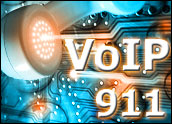 Continuing its efforts to head off a heavier regulatory hand and increasing litigation, voice over Internet protocol (VoIP) player Vonage announced it would offer emergency 911 calling services with its VoIP products and services in some states with help from local phone giant Verizon.
The new and old phone companies announced this week their collaboration would allow Vonage's VoIP customers to access Verizon's wireless and wireline Enhanced 911 network to offer the emergency service. Vonage, currently being sued by individuals and attorneys general in three U.S. states, said it will be able to provide emergency services personnel with both a caller's location and call-back number if the call is placed within Verizon's 28-state coverage area.
The move comes as Vonage continues to try and head off more litigation and possibly legislation or regulation from the Federal Communications Commission, which indicated last week it may force the issue.
"The government wants the industry to do it and they're reluctant to take it a step further, but they can't leave it alone," Gartner regulatory analyst Ron Cowles told TechNewsWorld.
Beyond CLEC Coverage
Vonage, which is trying to address both lawsuits and bad publicity from instances of customers unable to reach emergency services when they believed they could, said its agreement with Verizon was unique in that it went beyond use of a competitive local exchange carrier (CLEC), and was partnership with an incumbent local exchange carrier (ILEC) in Verizon.
"Unlike other ILECs, Verizon has not recommended Vonage use a CLEC for call delivery, as they recognize the significant limitations of this solution, as it does not accommodate for mobile customers or VoIP users on non-local phone numbers," said a statement from Vonage chief executive officer Jeffrey Citron. "It is important that all Vonage customers can use this solution — those with native phone numbers and those who can choose phone numbers from other areas."
Verizon, as well as SBC — another ILEC — announced last week their intentions to support 911 emergency calling for VoIP phones and industry analysts expect similar deals between the other large phone companies, such as Qwest and BellSouth, and VoIP players.
New 911 Calling
Vonage explained the Verizon-enabled 911 calling would route Vonage customer calls to its 911 server using industry standard SIP protocol. The Vonage server then queries Intrado, a traditional emergency services network provider, for routing instructions.
The emergency call is then directed to Verizon's network and its Pubic Safety Answering Point (PSAP) router system while Intrado places the caller's address and telephone number in a special database, whereby a 911 operator can use a special key unique to each call to get the customer's address and phone number.
The companies said the service will be implemented within six months and their agreement includes: direct trunking to Verizon's 100 selective routers, provision of wireless components enabling non-local numbers to call 911, and a data-steering agreement with Verizon's partner Intrado.
Overcoming Challenges
Ovum research director Jan Dawson told TechNewsWorld the "horror stories" about customers unable to get emergency help are prompting people and politicians into action. Dawson said although Vonage has worked to improve and expand emergency 911 service over VoIP, it is still being pressured to move faster.
"Vonage has always said they don't object to offering 911 services, but they do object to being forced to do so," he said.
The analyst indicated that while deals with Verizon, SBC and other large, local phone carriers are steps in the right direction, there are technical limitations to how fast and how far companies can go with VoIP 911 service.
"You have to somehow patch in and ensure calls are routed to the right jurisdiction," he said. "This is just a new way of making calls and [today's infrastructure] is not set up [for VoIP 911 calls]."
Dawson said although new chairmanship at the FCC under Kevin Martin may mean legislation requiring emergency services with VoIP, as is now required in Canada, Vonage may be able to avoid regulation for itself and the wider VoIP industry.
"The thing about Vonage blazing a trail is, it means that the process is in place and it's sort of set up for others to follow," he said. "[Regulators] are trying to leave VoIP alone. It's one of the key features of competition, and they don't want to do anything to damage that."