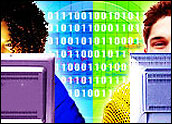 Internet telephony player Vonage and silicon specialist Texas Instruments have announced a collaboration on voice over Internet Protocol (VoIP) technology for equipment designers.
The partnership, which combines Vonage broadband telephony software with TI's VoIP silicon, is aimed at speeding adoption of VoIP, touted as a cost-saving, unencumbered alternative to traditional circuit-switched telephone networks. Communications devices such as DSL and cable modems could be equipped with the new technology to allow Internet telephone functionality without additional equipment or software.
By using computer networks — including the general Internet — to route and transmit telephone calls in the form of packet data, carriers, service providers and users can avoid regulatory expenses, making VoIP an attractive alternative to the aging telephone infrastructure.
Convergence Complexity
Meta Group senior analyst David Willis told TechNewsWorld that Vonage, a once-little player that cracked the residential VoIP market at the right time, is leveraging the mainstream arrival of broadband penetration in the home and playing to its strength there.
"This has become a very hot market — and this time, in the residential market, it's real," Willis said. "It's not been, 'Hey, get this Internet phone service to justify broadband.' It's, 'You've got broadband, we can cut your phone company.'"
But Gartner analyst Deborah Kish told TechNewsWorld that while the convergence of data and voice accomplished via VoIP is attractive to both providers and users, the reality is that convergence has not yet materialized. Kish said that while quality is supposed to improve — at least according to VoIP software and service providers such as Vonage and SBC — she cannot say it actually has done so.
Vonage, however, said its silicon and software partnership with Texas Instruments will speed the technology's delivery to users, who will benefit from the converged voice and data networks.
Price War and Position
"New Vonage-enabled devices will be in the hands of consumers faster due to this collaboration," said Vonage chairman and CEO Jeffrey Citron in a statement. "These devices will serve as the backbone for the telecommunications revolution by combining multiple communications technologies into one device thus enhancing the array of features and broadening usability."
Willis, who mainly credited timing for Vonage's VoIP success, indicated there are three main markets for the technology: the enterprise, which has only slowly adopted the technology; carriers, which are "suddenly starting to wake up" to packetizing their networks; and the residential market, which finally has reached substantial size in terms of broadband connections.
He said Vonage is teaming with Texas Instruments for two reasons: to meet the challenges of a price war already under way among service providers such as Qwest and Verizon; and to differentiate its offerings from the market's "noise."
Disruptive with Doubts
Vonage and Texas Instruments — a company that has 80 percent of the VoIP integrated-circuit market — said their alliance will facilitate the proliferation of high-quality VoIP products that are compatible with the Vonage network.
Meta Group's Willis noted that although VoIP is "something that truly is disruptive" to the traditional telecommunications paradigm, quality issues still will have to be worked out with the replacement technology. "Every time you place a call, there's a chance you're going to have some problems," he said.
Yankee Group senior analyst Zeus Kerravala told TechNewsWorld that although VoIP technology is "here to stay," call quality, reliability and other issues will prevent it from dominating for another nine or 10 years.
However, Willis pointed out, consumers have shown that cost might be more important to them than quality. They have, after all, abandoned land lines in favor of mobile phones, which do not currently match the quality of traditional calls.