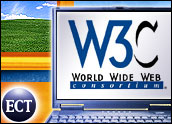 The World Wide Web Consortium (W3C) this week released what it described as three key recommendations, or pre-standard specifications, that will address performance and reliability issues for Web services, the joining of software applications inside and among different organizations' IT architectures.
While there has been a rush to roll in-house applications into Web services, companies have been more reluctant to exchange application access and use with partners or customers and use Web services externally, according to industry observers.
The three recommendations published by the W3C this week are intended to boost Web services performance by providing standard ways to transmit larger amounts of binary data, the W3C said.
Speeding Web Services
The W3C, which has released similar recommendations that are used to standardize Web services methods and mechanisms, called the latest ones a response to the need for "effective, standard methods for handling binary data."
The three recommendations were: XML-binary Optimized Packaging (XOP); SOAP Message Transmission Optimization Mechanism (MTOM); and Resource Representation SOAP Header Block (RRSHB). They are all essentially standard identifiers and outlines of Web services processes.
Stemming Skepticism
Yankee Group senior analyst Dana Gardner told TechNewsWorld the three new Web services recommendations should help alleviate some of the apprehension that has hindered deployment of the technology.
"One of the things that has held up the use of Web services in more mission critical areas is concern about the verbosity of the stream," Gardner said.
The analyst said the three new W3C recommendations are aimed at mitigating those concerns and making sure Web services is more mission-critical without degrading the data pipe.
Three-Part Solution
The W3C said its XML protocol group had been looking at the issue of Web services performance from its inception, when it was developing the first language of SOAP (simple object access protocol), SOAP 1.2.
The standards body said the XOP recommendation would allow efficient encoding of binary data in XML, requiring less space and bandwidth for applications.
As for the MTOM recommendation, the W3C reported it would make SOAP 1.2 faster by enabling optimization or transmission and formatting to transfer a SOAP message.
Lastly, the group said the RRSHB recommendation would provide applications a "local short cut to resources," explaining that the functionality of the piece would allow SOAP message recipients to access cached representations of external resources — addressing bandwidth and access issues.
Inside Out
Yankee Group's Gardner said that although a large number of organizations have rapidly adopted Web services to integrate applications internally, there is still apprehension on deploying Web services outwardly.
Gardner questioned how closely the various Web services standards bodies — such as the W3C and Web Services interoperability organization (WS-1) — are aligned on developing the tools and procedures for Web services.
However, he indicated the most recent recommendations from the W3C — described as the more "open" standard group — should help offset the performance concerns of those using the technology.