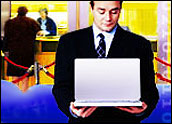 High-speed wireless — or WiFi — provider Wayport will be serving wireless access alongside Bic Macs and Happy Meals to McDonald's customers as the two companies team to roll out 802.11b and 802.11g technology throughout hundreds of the fast-food restaurants.
The companies said that after testing with a pilot program that delivered WiFi connectivity with fries in Seattle, Chicago and New York, McDonald's selected Wayport as its wireless provider. Wayport will be converting pilot stores that were using another provider and staying in McDonald's locations where it was testing, for a total of about 305 restaurants to start, Wayport spokesperson Michele DeWenter told TechNewsWorld.
"We will be announcing further rollout plans as they are finalized, but our target is to have approximately 6,000 McDonald's locations installed by the end of the year," DeWenter said. The fast-food chain has about 13,000 locations nationwide.
Analysts had mixed views on the Big Mac wireless play, with some pointing out the value of pulling in customers, while others, such as Yankee Group program manager Roger Entner, told TechNewsWorld that they do not see much value in the deal. "When was the last time you did business at McDonald's?" Entner asked. "Would you like your keyboard with or without mayo?"
Complete Coverage
Nevertheless, Wayport said the move gets it closer to providing better wireless coverage across different venues and throughout the country when combined with existing provider arrangements. The company will offer WiFi access for US$3 per two hours, with options including a $30 plan with unlimited use across the company's network.
Wayport, which also will offer content, including digital news, with its WiFi access, said it soon will be announcing service options available through roaming partners.
"Their locations provide ubiquitous coverage in every city as well as every outlying area between cities — along highways and interstates — so we feel that by having this brand in addition to our hotel and airport locations, we are already providing the kind of complete coverage that consumers need when away from home or the office," DeWenter said.
The Yankee Group's Entner said he thinks the idea of wireless access in a New York City McDonald's makes sense, but he questioned the value of widespread Micky D's deployment.
"It doesn't look like a match made in heaven," he said.
Complete Coverage
DeWenter, who noted that Wayport is not in talks with other fast-food chains, said the company believes there eventually will be a single, neutral-host wireless provider in various locations, such as fast-food stores, coffee shops, hotels and airports.
"This means that there is only one network deployed in a location versus having multiple, conflicting networks, yet other service providers can roam onto that one network and provide their service to their customers at that location," DeWenter explained, referring to existing agreements with AT&T Wireless, Verizon Wireless, Sprint PCS, SBC, MCI and aggregators iPass, GRIC and Boingo.
"Wayport owns the network in more than 1,000 locations, including hotels, airports and now McDonald's, that these companies can roam onto via separate agreements with Wayport, and in turn those companies can offer the service to their customers," DeWenter added.
Wayport said the model allows consumer flexibility in purchasing WiFi on the road, enabling users to purchase through the neutral host provider or the service they may already have.
Clown Gets Unwired
Gartner wireless research vice president Phil Redman said that as more and more new buildings and facilities have wireless technology built in, it is not that great of a leap for companies such as McDonald's to extend that wireless capability to their customers.
Redman added that given McDonald's recent struggles to maintain its top position in the fast-food industry, the company is doing whatever it can to pull in people, and wireless may help it attract its newer, younger target audience.
"It's not Ronald McDonald anymore," Redman told TechNewsWorld, speaking of the new moves the company is making to draw consumers to its locations. "Being wireless kind of fits into that."