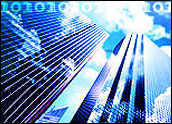 Web conferencing has become a popular communications medium in corporations for its ability to curb costs and improve productivity. Rather than bring a group of engineers together from various locations for a face-to-face meeting, Web conferencing enables them to meet virtually, which eliminates travel hassles and expenses. In addition, top company executives use it to communicate quickly and effectively with shareholders, the press and employees.
As the success of Web conferencing for one-to-many, scheduled, formal meetings has grown, companies have been on the lookout for ways to expand use of the service. Recently, these products have been enhanced, so employees can use them on informal, one-on-one bases that require quick, "ad-hoc" data interchanges. "Companies want to use conferencing for not only internal but also for external communications, with customers and suppliers, and ad-hoc conferencing is suited to that desire," said Andy Nilssen, a partner at Wainhouse Research.
A number of factors are behind the move to ad-hoc conferencing, starting with intense market pressure. More than a dozen companies, including Cisco Systems, Citrix, Convoq, Genesys Conferencing, Internet MegaMeeting, Macromedia, Microsoft, Polycom, WebDialogs, WebEx Communications, WebEx, West and WiredRed Software, make these products. "The Web conferencing market has been slow to develop, so many of the conferencing firms are now at a stage where they have to differentiate their products and demonstrate significant revenue growth," Nilssen told TechNewsWorld.
The Limitations of Centralization
Consequently, suppliers have been revamping their product lines, and designing their systems to meet current market needs. Traditionally, Web conferencing systems were built on a hierarchical architecture where one person was responsible for orchestrating the conference. "It was hard for participants to use these systems informally when everything had to be routed through a main host," noted David Ferris, president of market research firm Ferris Research.
Typically, these systems relied on central servers to conduct each conference. Now, these systems are more flexible; in fact, with some, the participants do not even have to hold their sessions on the corporate network.
Also, vendors have been making Web conferencing more convenient for users. One limitation had been the requirement that users download and install Web conferencing software on their computers. This can be time consuming and also requires that users track and eventually remove the programs once a session is through.
Integration Advances
Web conferencing programs often take up a lot of real estate on the user's screen, so another challenge has been typing notes while participating in a presentation. In response, vendors have been integrating items, such as NotePad functions, so users can write down their thoughts during an exchange.
Increasingly, suppliers have been moving away from Public Switched Telephone Network (PSTN) to VoIP services that support their conferences. Consequently, users are no longer tying up their phone lines during a conference. Also, Web conferencing services are able to send screen popups that notify customers when their conferences are about to start. Also, when a person speaks during a conference, the person's name is highlighted on all participants' computer screens. On the PSTN, speakers had to identify themselves and participants were forced to tie up their phone lines for long periods of time.
Recently, however, vendors have been integrating their products into a range of applications. A growing number have plug-ins that work with calendar and e-mail systems, so users can easily invite and schedule cohorts for important meetings. Integration with instant messaging is becoming more common. "It is becoming quick and easy to move from an IM session to a full blown Web conference," noted Ferris Research's Ferris.
With the move to more collaborative systems, there has been a push to use the tools for external rather than internal communications. Rather than just flip through a PowerPoint presentation, a moderator can walk a prospect through an interactive product demonstration. If a prospect needs to clarify a function, he could go back and redo it.
Dealing With Security Checks
In taking advantage of external Web conferences, companies often had been a problem with corporate security systems. "There had been issues using various firewalls, which would not let the conferencing software into the corporate network," Ferris Research's Ferris told TechNewsWorld. Newer products are better able to alleviate such problems.
One of the biggest changes has revolved around product pricing. Traditionally, conferencing represented an expensive proposition, one that required companies to buy software, install it on their own servers, and maintain the system. There has been movement to outsourced services. "The market for Web conferencing services has been growing while use of internally maintained conferencing system has flattened out," stated Wainhouse Research's Nilssen.
Even with the services, pricing could be a problem. Companies were often forced to purchase expensive (a few hundred dollars per user) licenses and required to sign a long term commitment, say a year or more.
Recently, vendors have been moving to the software-as-a-service, or pay-as-you-go, pricing model. Here users are able to use Web conferencing services for as little as $50 per user per session; this type of pricing fits better with ad-hoc conferencing.
Consequently, there has been more interest in these products. "While there has been a very gradual build up, it looks as though the ad-hoc conferencing market is now taking hold and a growing number of companies are taking advantage of it," concluded Nilssen.