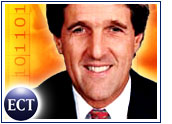 An Indianapolis bail bondsman is looking to cash in on the JohnKerry-John Edwards Democratic presidential ticket by selling hiswww.kerryedwards.com site to the highest bidder, with a starting priceof US$150,000.
But the man, who has owned rights to the Internet address for nearly twoyears, is not what is known as a "squatter," a person who purveys overInternet domain names using the brand names of large companies orfranchises. The man is Kerry Edwards, a 34-year-old who bought the siteto post family photos.
"I'm not an independently wealthy individual, unfortunately, and so it'sin the interest of my family to auction the rights to the domain,"Edwards said in a press release from Sedo.com, the Massachusetts companythat is auctioning the site. "Once I received substantial, unsolicitedoffers, I believed it was time to engage a professional organizationlike Sedo.com that specializes in brokering domain names to maximizethis opportunity for my family," he said.
Honest Luck
Frost & Sullivan senior analyst Mukul Krishna said that while some havecalled on Edwards to donate the domain to the Democratic cause, reactionto his auction of the site has been generally positive.
"He has had that domain registered before," Krishna told TechNewsWorld."This is a perfectly genuine circumstance. To give it up, he should getsome compensation. That is the general feeling."
Cambridge-based Sedo.com said it would be auctioning the domain namethrough July 31 to coincide with the nearby Democratic National Convention inBoston. Sedo.com opened the bidding at US$150,000, which was stillthe current high price July 23.
Slim Pickings for Squatters
While Krishna said there did not appear to be an attempt to profit fromanother's name in the case of Kerry Edwards, there are still cases ofso-called "squatting." However, Krishna said smaller settlementsresulting from such schemes, and court action that has repeatedly favoredtrademark holders, has discouraged the practice.
"It's nothing like it used to be," Krishna said. "It's become even moredifficult for cybersquatters to make a quick buck out of registering adomain name. If you show intent to make a venture out of someone else'sname, you'll certainly lose your case if it goes to court. That's whythese people lose and why settlements, if there are any, are reallydown."
Krishna indicated that in addition to wider international legislationand enforcement on domain names, companies have learned to use hyphens,prefixes and other small changes to simply get a different domain, letting would-be squatters keep their domain names.
Intent and Image
In the case of Mike Rowe, who had registered his www.mikerowesoft.com site, his contention that he did not mean to encroach on Microsoft's name were met with skepticism. Microsoft called it infringement, which resulted in bad publicity for the Redmond, Washington-based software giant.
The case was quickly settled out of court as Rowe, a Canadian teen-ager,agreed to hand the site over for an Xbox gaming console, developer forummembership, a new site and an invitation to Microsoft headquartersearlier this year.
Krishna, who said Rowe was "obviously a squatter," indicated that mighthave been a special case, and the prospects for squatters in general havediminished significantly.
"The ramifications of a legal battle with a much larger corporation areyou are not going to win the case easily," Krishna said. "The world haschanged so much over the past five years, especially with a lot of localgovernments getting involved, which makes it very difficult for thesepeople to make money anymore," he said.