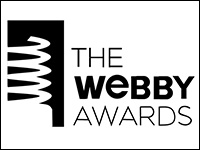 The winners of the 15th Annual Webby Awards were announced on Tuesday. Webby awards and People's Voice awards were handed out to honor the best of the Internet in dozens of categories.
Funny or Die received the most awards with nine total wins including best humor website and multiple awards for its comedy videos — one featuring Zach Galifianakis and another featuring Jim Carrey.
Conan O'Brien's Team Coco won the Webby and the People's Voice award for best celebrity/fan website.
Wieden + Kennedy nabbed a big victory in advertising. The agency was given the special honor, "Agency of the Year," for its seven wins in advertising categories. It won the Webby and the People's Voice award for best use of social media for its "Old Spice Guy" campaign. The New York Times scored multiple wins, including how-to, travel and mobile.
Google Creative Labs snatched up a total of seven wins and was awarded the People's Voice and Webby for its innovative video for Arcade Fire's "The Wilderness Downtown."
Angry Birds won the Webby and People's Voice in the category of handheld device games.
The Webby and People's Voice for best use of mobile video went to MLB.Com's At Bat multifaceted pro baseball app.
The Internet's Going Mainstream
The online world has entered everyone's living room — and phone — and the Webbys show it. Just look at the list of celebrity winners, including Lisa Kudrow, LL Cool J and Snoop Dogg. Although there is a lot of stuff online that is more alternative, the Webby Awards are honoring the high-profile, popular and accessible aspects of the Internet.
"They're 15 now. And they are going to stream them globally," Laura DiDio, principal analyst at ITIC, told TechNewsWorld.
Now that everyone is online, the awards may have difficulty positioning themselves.
"The people putting them on say they're mainstream — others say they're kitschy," noted DiDio. "I think people like them. They're fun. …
"They had 10,000 entries, which is not really a big number," she pointed out. "They have 100 categories from 50 states and 100 countries worldwide. You have everybody from David Bowie to Arianna Huffington, Martha Stewart and Harvey Weinstein.
"This is the only awards show for the Internet that matters," maintained DiDio.
The Internet is a wide-open market. There are sites tailored to almost any lifestyle you can imagine.
"It's a fun thing. If you're Harvey Weinstein, you love it — they're everywhere," said DiDio. "You have Twitter and Foursquare. They're doing this to appeal widely. These awards will really work if they can grab someone from the younger set like Justin Bieber or Lady Gaga."
Media Convergence
Mainstream media is converging with the Internet, and not vice versa, observed Steven Savage, technology project manager and Geek 2.0 blogger.
"There's not so much a digital divide between tech-savvy and non-tech savvy, but instead gradients of how technically savvy people are," he told TechNewsWorld. "In the case of online media, it's so easy to access, there's less and less of a division all the time."
There once was a distinct Web culture that separated things on the Internet from the rest of the world, noted Savage.
"That's fading, but it's not going away," he said. "The difference that remains is that the Web culture is a culture of people that also understand how the technology, publicity, and so forth of the Web works. A person who is famous for their website and a person who just started a blog, to an extent, understand the same things — the technical issues, the publicity issues, etc."
There is still a difference between mainstream and Internet media, in his view. "The difference between Web culture and the rest of the world is that the Web culture as people know it has a lot of shared understanding about what it takes to get something on the Web and make it work, and it has a very broad base. Again, Web culture is also a continuity, a gradient, of savviness and involvement."