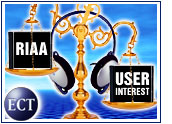 The Recording Industry Association of America has come under legal fire again, this time from a group of Internet broadcasters that claim the industry group broke federal antitrust law and has kept royalty rates high to hinder independent Webcasters.
Webcaster Alliance, a trade group of approximately 400 members, is seeking a jury trial to rescind legislation known as the Small Webcaster Settlement Act (SWSA) of 2002, which the group claims sets royalties to preclude the growth of independent Webcasters, alliance president Ann Gabriel told TechNewsWorld.
The suit, filed this week in federal court, adds to a list of legal action against the RIAA, which has been sued by large ISPs and an individual over its subpoenas to identify alleged copyright violators.
"They're getting backlash across multiple fronts," Yankee Group senior analyst Mike Goodman told TechNewsWorld. "As the RIAA backs itself more and more into an anticonsumer corner, the Webcasters are saying there's an opportunity to play off that and take advantage because [the RIAA] is and will become a political pariah."
Roiled by Royalties
Gabriel said that the Webcaster Alliance complaint stems from "selective negotiations" last year between the RIAA and "hand picked" representatives of the Webcasting industry, which resulted in Webcaster royalty rates and terms in the form of the SWSA.
"In essence, a negotiation intended between private parties and the recording industry was manipulated and turned into legislation that's been turned on an entire industry," Gabriel said. "Those rates were set deliberately to prohibit independent Webcasters from growth."
Gabriel, who indicated that trade organization status prevents Webcaster Alliance from seeking monetary damages at this point, said royalties for Webcasters are double and sometimes triple what other broadcasters pay because of the SWSA.
No Merit
In response to the complaint, the RIAA called the lawsuit "a publicity stunt that has no merit" in a statement.
Saying that it is committed to supporting new, cutting-edge performance models such as Internet radio, the RIAA referred to its past and future dealings with Webcasters.
"Record companies and artists have worked earnestly and diligently to negotiate several agreements with a host of new types of radio services, including commercial and noncommercial Webcasters," the statement said.
That's Business
The Yankee Group's Goodman said that unless there are claims of backroom deals, the Webcaster Alliance complaints amount to sour grapes.
"They're not happy the bigger guy got a better deal," Goodman said. "It's called volume discounting; that's the way of the world."
Still, Goodman said, the group of Webcasters might have success in taking advantage of public opinion against the RIAA and putting pressure on politicians to rewrite their royalty rules.
Several Suits
Although unrelated to the RIAA's persecution of individual file traders believed to be copyright infringers, the Webcaster Alliance suit adds to a list of litigation against the RIAA brought on by its strategy.
Some ISPs, many of which have complained about the expense and privacy risks of responding to the RIAA's more than 1,000 subpoenas, have sued the RIAA. Those filing suits include major players Verizon and SBC.
An anonymous woman who was the subject of an RIAA subpoena also filed suit last week. The RIAA disputed her lawyer's claims that music on her computer was owned by her and accused her of illegal downloading and distribution of more than 900 copyrighted songs without authorization.
Perception Problems
While he viewed the Webcaster Alliance suit somewhat skeptically, Goodman said the group might see opportunity in the political liability the RIAA has assumed since announcing it was going after individual consumers.
"They're jumping on the RIAA bandwagon because it's going to be harder and harder for politicians to support the RIAA," he said. "It's a political liability to say, 'I support the RIAA.'"
Goodman, who said the RIAA continues to compound the problem of its anticonsumer image, added that while its strategy might have had some effect on file-sharing, it is also preventing consumers from buying albums.
"It's still a fairly short time period of six to seven weeks, but since they started [pursuing consumers], we're seeing a further erosion of their revenues," he said.