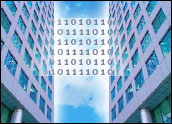 Wireless Wide Area Networks (WANs) have so far garnered only niche acceptance: They are used in rural areas where wired telecommunications services are not available and in select instances where companies deem them less expensive than other options, like T1 lines.
Wi-Max, short for "Worldwide Interoperability for Microwave Access," was crafted to make wireless WANs more attractive to corporations and end users. Wi-Max products, which fall under the new IEEE 802.16 standard, are starting to trickle into the marketplace, but analysts are split on the technology's future. Some view it as nothing more than a follow-on to current niche applications while others think it has the potential to garner widespread use.
Compliant Products
Wi-Max was fashioned in a manner similar to the 802.11 standard, which helped increase sales of wireless LANs. Traditionally, vendors relied on proprietary designs to address problems that come from wireless connections, such as outside interference. This approach led to high-priced products that could not easily be mixed and matched. Wi-Max, which comes in two flavors, features a standardized product design. This should ease installation and drive down costs.
Airspan Networks, Alvarion Inc., Aperto Networks, Fujitsu Microelectronics America, Intel, Nokia and Proxim Inc. are some of the vendors who have been building Wi-Max products, which are small (the size of pizza box) and support a variety of network transport protocols, like Asynchronous Transfer Mode, Ethernet, and IP.
Compliant products for the first version of the specification, which is designed for point-to-point applications, have been making their way from vendor laboratories to customer sites. The IEEE completed work on the standard and now the Wi-Max Forum, a vendor consortium, is putting the infrastructure in place needed to test products and ensure their interoperability.
Encountering Slight Delay
The forum's initial goal was to complete this testing before the summer, but now it appears more likely that it will occur in the second half of the year. "The Wi-Max Forum had trouble finding a testing lab for the products," said Lindsay Schroth, a senior analyst at The Yankee Group. "With that problem addressed, compliant products should start shipping later this year."
As Wi-Max devices make their way to the market, proponents envision them being used in telecommunications service provider networks, moving information between high traffic locations where carriers find it difficult, or expensive, to use wired lines. Analysts agree that the technology will gain more acceptance aboard as countries expand their telecommunications services than in the US where service providers' network infrastructures are well established.
"In regions, such as Eastern Europe, some parts of Asia, and much of Latin America, carriers continue to expand their networks to bring voice services to underdeveloped regions," said Yankee Group's Schroth. "Wi-Max will be a popular option in those locations."
The second version of the standard, 802.16 b, works in a point-to-multipoint fashion. The IEEE plans to complete outlining this standard by the end of the year, so analysts expect prototype products to trickle in to the market 2006 and be generally availability in 2007.
Better than WLANs
Carriers can use these devices to blanket metropolitan areas and provide services to enterprises and end users. In this case, it has been positioned mainly as an alternative to WLANs. "Wi-Max will offer a robust and manageable way of supporting WLAN hotspots because its origin were in from carrier-grade wired WANs while WLANs were built to support enterprise networks," said Eric Mantion, an analyst with market research firm In-Stat/MDR Inc.
While WLANs support transmission ranges measured in a few thousand square, Wi-Max is capable of transmitting network signals in areas of about 30 square miles. Wi-Max also provides data rates of up to 70 Mbps, which is greater than WLAN's high of 54M bps.
But Wi-Max must overcome a number of hurdles to convince carriers to deploy it. Cost is a significant barrier. The WAN comes in two flavors, one installed on the carrier's network and the other deployed at the customer's site. Initially, the former is expected to be expensive, costing several hundred to a few thousand dollars. Prices for the end user equipment are expected to range from $100 to $250.
Tools, Education
In comparison, WLAN WAN carrier products cost a few hundred dollars, and the end user devices are embedded into portable device such as laptops and handheld devices. "I haven't been able to produce a scenario where it is cost effective for service providers to deploy Wi-Max services," said Tad Neeley, a principal with financial analyst firm Gemini Partners Ltd. "In every case, the equipment investments make it much more expensive than alternatives like DSL, cable modems, and WLANs."
Because Wi-Max products are new, resellers and users do not know how to deploy and manage them. Because the devices are designed for outdoor equipment, they require network technicians familiar with dealing with items, such as line-of-sight problems, where trees or office buildings disrupt transmissions, and installing rugged network devices, which function outdoors rather than indoors.
The network monitoring functions with these systems are demanding. Since they are not running in traditional WLAN environments, these wireless networks are susceptible to new types of outside interference, for instance heavy precipitation can impede transmissions. To address these problems, equipment vendors need to develop new management product lines, a process that typically takes place a few years after they ship new products.
A False Start
Wi-Max vendors have also faced financial pressure. Like other telecommunications market segments, Wi-Max vendors went through an Internet induced boom and bust phase in the late 1990s/early 200s. "A few years ago, carriers envisioned widespread use of wireless WAN services," said In-Stat/MDR's Mantion. Since the need for those services was slow to develop, companies such as Cometa Networks Inc. and Ensemble Communications Inc. were forced to exit the market.
There are some who doubt vendors will overcome these obstacles. "I don't see Wi-Max products gaining anything other than the niche acceptance they have experienced to date," Gemini Partners' Neeley told TechNewsWorld.
Others are more optimistic. "The industry has been shifting from wired to wireless connections, and that should hold true in the WAN as well as the LAN," stated Yankee Group's Schroth.Which of these predictions will come true will start to become clearer in the coming months when the first wave of Wi-Max begin to ship.