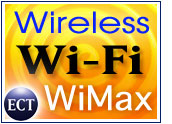 The WiFi Alliance, a global nonprofit organizatin made up of 200 member companies that support the IEEE 802.11, or WiFi, wireless standard, has announced a new, more stringent policy on interoperability for products to obtain its WiFi certification.
The policy is effective immediately and threatens denial or loss of WiFi certification for products that disrupt or don't work with other WiFi-certified products. It comes on the heels of a complaint from Broadcom over rival Atheros' specification, which supposedly caused disruption to Broadcom and other products.
WiFi Alliance Chairman Bill Carney said he could not comment on specific companies or complaints, but he told TechNewsWorld there have been complaints from time to time, such as problem reports regarding features that are not part of the WiFi standard or general interoperability problems, "which the WiFi Alliance always follows up on."
Products Evolve, Impact
Yankee Group research fellow Roberta Wiggins said the policy comes inresponse to a more crowded wireless market that is only going to getincreasingly crowded going forward.
"There's a multitude of vendors developing products for an increasing array of devices," Wiggins told TechNewsWorld. "It's also getting into the consumer arena, and that creates a greater need for controlled certification and interoperability," he said.
The WiFi Alliance said that as wireless technology has evolved, the product "extensions" that companies add on can go beyond the IEEE 802.11 standard and WiFi certification requirements.
The Alliance said that typically the extensions are aimed at boosting speed or security, but since they can also adversely impact other products that are WiFi-certified, the new policy was necessary.
"There are a lot of vendors that are trying to differentiate their products beyond the standard," Carney said. "We've put these [requirements] in place to guide them through the process should there be complaints."
Testing for Interoperability
The WiFi Alliance said the new policy and regulations are designed toaddress situations where product extensions adversely affect theperformance of other certified products.
"Products are eligible to become WiFi-certified provided they canpass the standard test suite and any extensions do not impair the ability ofother certified products to operate as intended," WiFi AllianceManaging Director Frank Hanzlik said in a statement.
"If a product extension significantly impacts the ability of other WiFi-certified equipment to operate as intended, the Alliance may withhold or revoke certification," Hanzlik said. "We have taken this important step due to the WiFi Alliance's continued commitment to a positive consumer experience," he said.
Carney said that although the WiFi Alliance does not have any legalauthority or control over industry, the group is using its certification controlto ensure companies "adhere with what WiFi-certified stands for."
"What we're trying to do is provide a very clear path that they needto follow [to ensure interoperability] without interrupting WiFiinnovation," he said.
New Testing Labs
The WiFi Alliance, indicating demand for certification is increasing,also announced it is adding several new laboratories to perform producttesting for WiFi certification. The alliance said the introduction ofnew labs — in addition to existing Agilent Technologies labs in Europe,Asia and North America — will take place over several weeks beginning nextmonth.
Carney, who said the alliance has about eight to 10 products up forWiFi certification every week, indicated that the figure continues to climbafter a jump with the 802.11g standard last year.
"In general, we have more and more products from more and more membercompanies seeking WiFi certification," Carney said. "What this will dois make the process faster and more efficient."