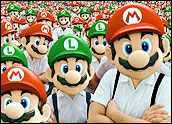 Major players in the gaming industry continued to make a splash at the E3 Media & Business Summit in Santa Monica, Calif., Wednesday, as Nintendo unveiled its latest lineup of games.
Having already scored hits by getting gamers to exercise their minds with the "Brain Age" game and "Big Brain Academy" series, the company will extend its fitness push to include the rest of the body with the "Wii Fit" video game and its pressure-sensitive Wii Balance Board (WBB) controller.
"In less than eight months, Wii has proved itself the video game system for everyone, and we're not letting up," said Reggie Fils-Aime, Nintendo of America president. "We're producing hit after hit after hit, supported by a long line of third-party publishers who have shifted their resources to help make Wii the most distinctive video game system in history."
Nintendo will by the end of the year add some 200 titles to the more than 150 games, the company said, including downloadable titles for the Virtual Console, already available in the U.S. About 100 of the new titles will come from third-party publishers such as Electronic Arts, Sega, Activision, Namco Bandai, Disney Interactive and Square Enix.
It's Wii-Ercise!
Games that get players moving, such as those featured in Wii Sports, have been good to the Wii. Add to that the company's success with its "Brain Age" brain exercising game for the Nintendo DS and the upcoming "Face Training" facial exercise game scheduled for release this August in Japan.
Now, along with boxing, playing tennis and bowling, Wii players can take their fitness to the next level with "Wii Fit," an active-play game that will exercise the whole body using its accompanying WBB pressure-sensitive controller. The WBB's flat surface syncs and transmits information to the Wii console, such as a player's weight and ability to balance, noting the stronger leg. This enables the game to track players' movements — how they stand, shift their feet, when they are leaning, etc.
The game display graphically indicates to the player how to make adjustments in order to perform each movement correctly.
"Wii Fit" will offer users some 40 different activities, such as aerobics, muscle toning, yoga and balancing lead by a group of three fitness instructors. One game, for instance, casts players in the role of a soccer goalie who must defend the goal by preventing balls from scoring using their heads by canting their bodies to follow the game's directions.
In a second game, push-ups are the key to success as players position their hands on the WBB. Other activities include virtual hula hooping, dancing, skiing and simple stretches. The exercises provide a "core" workout that emphasizes slower, controlled movements, according to Nintendo. Families who play the game can compare their results and progress on a new channel on the Wii menu.
"Wii Fit" is "brilliant," Rob Enderle, principal analyst at Enderle Group, told TechNewsWorld. The game will likely do very well for Nintendo, as it is consistent with their already successful strategy, he noted. The question, however, is whether the implementation is good enough.
"Activity-based offerings have worked well for this console, and leveraging that fully seems a natural path to success," he added.
Nintendo gave no firm release date for "Wii Fit."
Flashback Gaming
Continuing its theme of expanding on a successful strategy, Nintendo also announced a slew of new games for the Wii, most of which rely on the popularity of past hits for their cache. The Mario Bros. franchise will grow further, with four new titles, including "Mario Kart Wii," "Super Mario Galaxy," "Mario Strikers Charged" and "Super Smash Bros. Brawl."
"Mario Kart Wii," the latest version of the popular "Mario Kart," due out in early 2008, features new vehicles as well as feature that enables players to race around the track using the "Wii Wheel," a steering wheel housing for the Wii remote. The device will sport new controls and challenges for veteran gamers, according to Nintendo, and provide easy and intuitive racing for newbies.
In "Super Mario Galaxy," players have an opportunity to experience the fun of "Super Mario 64" Wii-style. Using the Wii Remote and Nunchuk, gamers navigate Mario through a series of planets, with different levels of gravity, chaotic challenges and power-ups found on each. Scheduled for release on Nov. 12, the game will also allow for a second player to provide assistance during the course of the game.
Fans should look for the fourth game, "Mario Strikers Charged," a sports video game on July 30. Already released in Australia and Europe as "Mario Strikers Charged Football," the game features two teams battling to maintain possession of a metallic soccer ball.
Coming out just before Christmas on Dec. 3, "Super Smash Bros. Brawl" continues Nintendo's "all-out-smash-or-be-smashed franchise." The newest edition will include new characters, including the first non-Nintendo character, new moves and new arenas.
Wrapping up the "Metroid Prime" trilogy, the first-person adventure "Metroid Prime 3" introduces unmatched first-person controls, Nintendo said, by enabling players to use the Wii Remote as an arm cannon for "a feeling of complete immersion." Coming Aug. 27, the game follows its heroine, Samus, as she travels between planets battling her archenemy Dark Samus.
Sequels Galore
Other games scheduled to arrive before the end of the year include "Donkey Kong Barrel Blast" on Oct. 8; "Battalion Wars 2" and "Endless Ocean," both on Oct. 29; and "Fire Emblem," set for Nov. 5.
Third-party titles headed to the Wii also include EA's "Boogie," a music video game, and "EA Playground," a single-player or multi-player game that features several much beloved playground games. EA hits "Madden NFL" and "FIFA Soccer" will also make their way to the Wii. Sega will release "Mario & Sonic at the Olympic Games," the first time the two characters will team up for a game. "Nights: Journey of Dreams," a Sega offering set within a dream world, is a sequel to 1996's Sega Saturn title, "Nights into Dreams."
Wii gamers will rock out with the third installment of Activision's "Guitar Hero III: Legends of Rock while Disney Interactive's "High School Musical: Sing It!" will have them belting out tunes. Namco Bandai's "SoulCalibur Legends" picks up where the successful "Soul" series left off, and Square Enix will bring "Dragon Quest Swords: The Masked Queen and the Tower of Mirrors," a Dragon Quest series spinoff, to the console in early 2008.
Armed and Dangerous
Later this year, the console maker will also launch the Wii Zapper, a housing unit that affixes the Remote and Nunchuk to resemble a gun. The new device, according to Nintendo, provides a new experience for first-person shooters and targeting games. The "Zapper" will be used with a assortment of third-party games, including: "Resident Evil: Umbrella Chronicles" from Capcom, Sega's "Ghost Squad" and "Medal of Honor" from EA.
"Wii Fit" aside, for Enderle, the bulk of titles announced at this year's E3 have been distinctly underwhelming, with a tide of sequels destined for "a market awash in mediocre titles." The challenge facing Nintendo and the industry at large, he noted, is that they are not developing more cutting-edge games and instead relying heavily on retreads. "That's the risk for all platforms, there really is too much coming out that just isn't that interesting," he said.
However, it is too early to sound the dirge, Enderle explained, at least not for Nintendo and the Wii, which seem to have struck gold with activity-based games.
"While the overall game content out of E3 is relatively disappointing, the Wii is finding a strong niche in activity-based games that forms the basis for the Balance Board and likely continued success for the platform," he noted. "It will be interesting to see what else they come up with."