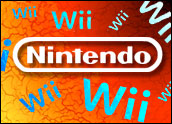 The Wii Zapper, a plastic gun-shaped casing for the Nintendo console's Wii-mote and Nunchuck controllers, will makes it debut in the U.S. in time for the holiday shopping season on Nov. 19, Nintendo announced Monday.
The console maker unveiled the add-on in July at this year's E3 Media and Business Summit. It is designed to turn the two controllers into a single unit, held like a gun, for more precise targeting while playing shooter-style games.
"The Wii Zapper combines our remarkable controllers into one housing with a classic style reminiscent of arcade-style games," said George Harrison, Nintendo of America's senior vice president of marketing and corporate communications.
"Both veteran and first-time players will find it brings a whole new dimension to games where targeting is key and provides even more exciting game-play experiences," he continued.
A Wii Bit More Accurate
In keeping with the Wii's image as a video game console for gamers at all levels, Nintendo has also included a training video featuring the popular "Legend of Zelda" character Link. "Link's Crossbow Training" teaches users how to use the combined controllers, beginning with simple target shooting at bull's-eyes and progressing up to moving targets.
"The Zapper was intuitive and fun," Michael Pachter, a WedBush Morgan analyst who has taken the controller for a spin, told TechNewsWorld. "It makes shooter games much easier to play, since you merely point and shoot."
The feel of gameplay using the Zapper, Pachter continued, is more analogous to that of PC-based games that use a mouse to point at the target and shoot.
"I think it will be hugely popular," he opined.
Priced at US$19.99, the Wii Zapper is affordable if one considers that it will last as long as consumers own their Wiis, said Pachter. Including the training demo with the housing unit is smart, he added.
"It can't hurt to educate consumers about such a high-profit item," he said.
More Wii Games
Three third-party titles that take full advantage of the new controller are also on the way. EA's "Medal of Honor Heroes 2" brings the action of World War II to gamers and features an "all-new Wii-exclusive" Arcade Mode designed to make the game accessible to players at all skill levels. Gamers can take on the enemy alone or go into battle with the support of up to 32 players in multiplayer mode.
Capcom's "Resident Evil: The Umbrella Chronicles," another upcoming title, exposes the story behind the fall of the Umbrella Corporation and allows gamers to explore locations from previous versions of "Resident Evil" in addition to some new locations no one has seen before, including Umbrella's stronghold. The game supports up to two players fighting zombie hordes in the first-person shooter using the Wii Zapper.
Sega has also optimized its arcade hit "Ghost Squad." The game gives players the chance to experience the "arcade light-gun" at home, according to Nintendo.
Gamers will take the device seriously, Pachter noted
"'Resident Evil' and 'Medal of Honor' will be much more fun," he concluded.