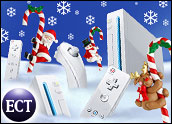 Consumers who thought Christmas would be the perfect time to join in on the hottest craze in video game consoles could be disappointed, according to Reggie Fils-Aime, president of Nintendo of America. The supply for Wiis will remain tight for the 2007 holiday season, he said.
Extremely high demand for the consoles has outstripped even Nintendo executives' aggressive forecasts. Increasing production to meet that demand is easier said than done, Fils-Aime explained. While Nintendo has striven to ramp up production and put more consoles on store shelves, the hardware maker can't guarantee it will be able to satisfy holiday demand, he said.
Outsourcing Blues
"The Nintendo supply problems are linked to the fact that Nintendo outsources all of its console manufacturing," Brian O'Rourke, an Instat analyst, told TechNewsWorld. "Coupled with the fact that demand has far exceeded their expectation, it has created problems for Nintendo."
"Bringing new contract manufacturing online is not equivalent to flipping a light switch," he continued. "It takes time to qualify the manufacturers. Nintendo is certainly adding new contract manufacturers. They simply can't do it quickly enough to meet the seemingly insatiable demand for the Wii."
It is an unavoidable trait of human nature that the perception that something is in short supply will drive demand up even higher. Anyone remember the Christmas rushes for the Cabbage Patch Kids, Tickle Me Elmo and Furby?
"The scarcity — if it happens — will only serve to make people want the Wii even more, driving the price up on eBay," Michael Pachter, a Wedbush Morgan analyst, told TechnewsWorld. "I think Nintendo is trying to manage capacity and demand. Excess capacity costs money, and I'm sure the company expects the shortage to be short-lived."
From a business standpoint, although consumers have no guarantee that they will find the Wii at their local retailer, that is not terrible news for Nintendo because it means there is demand for the platform. A desire for the console means consumers will buy the console when they do find it instead of putting it off, Michael Gartenberg, a JupiterResearch analyst, told TechNewsWorld.
"At the end of the day, though, it doesn't seem like it is in terribly short supply, but you have to be persistent," he explained. "In some ways, that's not a bad place to be because it means there is demand and anticipation, and people sitting on the fence decide to buy because they don't know when they'll be able to find one later on."
Good News for Competitors
The tight supply actually could push some consumers away from the Wii, Gartenberg said.
"To some extent it does help them and not terribly hurt them, but it is a very tight set of maneuvers here because at a certain point consumers may very well become frustrated and buy elsewhere."
The scarcity of the Wii has and will continue to cost Nintendo console sales, O'Rourke echoed, "but there is only so much that they can do."
If both the PlayStation and Xbox go into the holiday season with motion-sensing controllers as their makers have said they would, people could shift away from the Wii to ensure there is something under the tree for Christmas, said Rob Enderle, principal analyst at Enderle Group.
"To make this work the others have to have their new motion controllers in market with games that will use them," Enderle told TechNewsWorld. "Until those arrive, it is doubtful either Microsoft or Sony will benefit much from this, but if they can get their competing stuff to market, that would change."
Marketing Magic
Mike Goodman, a Yankee Group analyst, takes a more pragmatic view of the shortage.
"With supply issues, it depends on how they play out," he told TechNewsWorld. "I think you're going to have your biggest supply issues in Japan because that's their biggest market and Microsoft is really a non-player in Japan."
Supporting Goodman's prediction are recently released numbers from Japanese game publisher Enterbrain that indicate that although the sales margin has fallen from a high of 5-to-1 in May, the console continues to outpace Sony's PS3 by a 4-to-1 margin. In total, between April and September, Nintendo sold 1.6 million Wiis, while Sony sales were a comparatively anemic 400,000.
Subtract Japan, and Goodman said it's really a "nip and tuck battle" between Microsoft and Nintendo in other markets, including the U.S.
As to whether the shortage will benefit or harm Nintendo, according to Goodman, Fils-Aime's announcement falls into the category of "tell me something I didn't know."
"Within specific areas you'll have short-term shortages, but everyone is going to have shortages. It's the holiday season," Goodman said. "So all of a sudden Nintendo says they are going to have shortages. Yeah, so? It's the holidays. I bet the PS3 won't be able to meet demand either."
The Early Bird Gets the Wii
Consumers determined to buy a Wii this holiday season need to wage an organized and persistent campaign the analysts advised and be prepared to pay a premium for the console.
"I'd shop early and call around," Enderle suggested. "They are making it to stores and I've seen the product in GameStop and in Fry's, but wouldn't wait too long as people realize there is a shortage."
"Currently it is selling at about a $100 premium on Amazon. That's pretty amazing given Sony and Microsoft has cut prices recently. People should be prepared to pay a premium for it and to factor their decisions accordingly. It isn't a $200-plus product, it is a $300-plus product right now," he added.
Jupiter's Gartenberg advises consumers to check out their Sunday circulars.
"If you see Circuit City or Best Buy advertising it on a Sunday, then you know that at some point during the week they're going to get a shipment and you can stake out the stores. Otherwise, if money is no object, there are a lot of Wiis available on eBay, but you're going to have to pay a premium for that and for some people that will be out of the question."