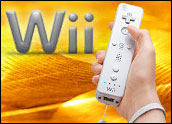 When Nintendo announced its upcoming releases in July at the E3 Conference, one of the most intriguing games for me was "Wii Music." The game's description as something that "makes it easy for people to jam to tunes, even if they don't know anything about music" appealed to the frustrated musician in me.
However, I could not see how Nintendo was going to be able to pull off a game with either the Wii remote or the nunchuk — or both — cast in the role of instrument. I should have known better than to doubt Nintendo.
"Wii Music" enables players to fulfill their dreams of rock, pop, R&B or Jazz stardom through Improv and Custom jam sessions. Up to four people can play more than 60 different instruments — both traditional and non-traditional — and make music. They can pick a sitar, beat a galactic drum or play a piano in a variety of musical styles. Players can harmonize, play rhythm or the melody, or do whatever they feel.
Players' jams, their lessons and some games are automatically recorded. Players can choose to save their music videos and create digital covers, then watch their just-recorded video. The more videos they make, the more songs and instruments become available.
Dj Vu
"Wii Music," includes several modes. Players can take lessons; hold jam sessions, watch videos or play music-related games. The "Game" area includes three options: "Mii Maestro," "Handbell Harmony" and "Pitch Perfect."
For those who've ever wanted to lead the band, "Maestro" makes them the conductor, and scores are given based the ability of players to correctly conduct their symphony. "Handbell Harmony" tests a players ability to chime in at the right time and ring their colored bells.
To say that I found the first two games challenging would be kind. However, I was all over "Pitch Perfect." Matching tones and arranging Miis to play a recorded track — that was simple.
Not so simple — and another area that proved unduly tested — were the music lessons on harmony, melody, percussion and the other components that make up a good song. The so-called Basic Lessons, where users are taught how to play the melody and keep time with the music, were tricky enough. Then came the "Expanded Lessons" that include different types of music — the aforementioned Rock, Pop and Jazz in addition to Classical, Hawaiian, Reggae, Latin, Tango, Japanese and Electronic.
Instead of absorbing the different elements that are the foundations for these musical genres, I finally realized the awful truth. I have no rhythm. The tempo, melody, etc. — all of that escapes me.
High and Low Notes
The best thing about "Wii Music," though, is that as long as you're not planning on trying out for "American Idol" or some other musically oriented talent show, imperfect pitch or musical arrhythmia are not an impediment to a good time.
Now, let's be clear. "Guitar Hero" or "Rock Band" this is not. The musical selections are less AC/DC and Aerosmith and more, shall we say, elevator-y. And while Earth, Wind and Fire's "September," Madonna's "Material Girl" and Wham's "Wake me Up Before You Go-Go," are great, before those tunes are available, players will have to wade through "Do-Re-Mi," "Frere Jacques" and "O Christmas Tree."
I also would have liked more control over my Improv Jam Sessions. Here, players are given instruments, and the computer-generated "Tutes" — back-up musicians — accompany them in the song. That's fine if you can remember the basic/expanded beats taught in the lessons. I'm not one of those people, however, and the experience left me wishing for something tangible to follow (something like the colored guides in "Rock Band," perhaps) other than the metronome.
Overall, however, "Wii Music" was fun. Kids should get a kick out of the game, and adults will groove to the beat as well.
"Wii Music" is available now and priced at US$49.95.