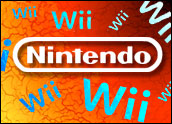 Sony's profits are down, while Nintendo's sales are way up. The Wii video game console is selling faster than Nintendo can keep up with. Following Sony's announcement of its disappointing results Tuesday, which it partly blamed on huge costs for the PS3 launch, speculation is running rampant about the PlayStation 3's position in the video gaming market.
Sony's report was that its gaming division had experienced a significant operating loss during the quarter, "primarily the result of the loss arising from the sale of PS3 at strategic price points, as well as the recording of other charges in association with preparation for the launch of PS3."
The games division reported an operating loss of US$445 million during the quarter, compared with a profit of $557 million in the same quarter of 2005. Net profit dropped by more than 5 percent to $1.3 billion. The company shipped 1.84 million PS3 machines worldwide during the quarter, though its availability in Europe has been delayed to later this year.
Expanding the Market
Microsoft, maker of the competing Xbox 360, recently reported disappointing profit figures as well.
"Sony's PlayStation 3 is targeting early adopters and gaming enthusiasts, while Wii is expanding the gaming market to reach out to families that might have never owned a gaming console before," Michael Cai, director of broadband and gaming at Parks Associates told TechNewsWorld. "Another big factor was that during the holiday season, not many gift-givers will spend $600 to $700 on a gift."
Sony also suffered a rough start for its PlayStation 3 because of component shortages that compromised availability when it was released, Cai added. By the time those issues were fixed, the early demand had waned he said. So, by the holidays, "Wii had more machines in channel plus stronger demand."
A New Trend
Is Wii poised to surpass PlayStation in the long run? Its use of motion sensors to get users actively participating is more than just a passing fad, Cai noted. "Microsoft and Sony will pay attention to that trend for sure. A lot of people might view this as a novelty, but I think it will be a trend. It's not all about in-game actions anymore — it's also going to be about real-world motion."
Any predictions about the future are going to depend on the time horizon you're talking about, cautioned Ted Pollack, senior analyst for the gaming industry at Jon Peddie Research. "One reason PS3 definitely won't catch up in the short term is because of its price," Pollack told TechNewsWorld. "However, as the games get better and prices drop, and as the years tick by, 5 years from now [the market] will look very different."
In the long run, there may be room for both. "People aren't necessarily choosing Wiis over PS3s," Pollack claimed. "Wii is incredible, but you can't get the photo-realistic entertainment that you can from PS3 and Xbox [360]."