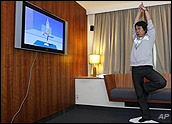 Nintendo's Wii Fit came to the U.S. on Monday. Wii Fit is a game and accompanying controller for the popular Wii video game system that enables the user to play games focused on exercise and use their feet to control it.
The new offering is an extension of what has made the Wii so popular among mainstream gamers — getting folks up and moving.
"It's going to be extremely popular. One of the by-products of the first wave of Wii games was that people discovered that they were getting off the couch and moving around. Taking it to the next level with something really targeted at physical activity is a good thing," said Michael Gartenberg, a JupiterResearch analyst.
First introduced in Japan last December, a Wii Fit bundled system sold more than 1.4 million units by the middle of April, according to Nintendo.
Wii Bit More Fit
The Wii Fit bundle includes the Wii Balance Board, a motion sensitive controller on which users stand, and software that includes a variety of more than 40 exercises from virtual hula hoops to push-ups to yoga. The package sells for US$90.
Users begin with "The Body Test." They stand on the Wii Balance Board, which records their weight, center of gravity and body mass index. Next, the software takes users through a series of simple exercises in order to analyze his physical strengths and weaknesses and gauge his performance level.
Once those baseline calculations are completed and users have been given their "Wii Fit Age," they can set goals based on performance, weight or scheduled time increment. Results appear on a graph with which users can chart their progress and compare it with other Wii Fit users. The software also includes an activity log that documents how much time users spend exercising without Wii Fit.
Then it's on to the exercises, which fall into four categories: aerobics, balance, strength training and yoga.
"It's very fun, approachable and offers a mild workout," Michael Pachter, a Wedbush Morgan analyst who has tried the Wii Fit, told TechNewsWorld.
For those not interested in traditional exercise, the Balance Board can also be used as a controller.
"It's especially fun as a controller," according to Pachter who used it to play a snowboard game.
Wii Fit Nation
The Wii Fit could help Americans think differently about exercise, Michael Inouye, an analyst at InStat, told TechNewsWorld.
"[Wii Fit] slots in nicely into the casual gamer portfolio, so to speak. I'm not a [physical education] analyst, nor do I have any medical training, but any physical activity is better than just sitting on the couch and watching TV or stoically playing games," he said.
As Americans become increasingly sedentary in the workplace and at home and consume more calories than necessary, their waistlines will grow apace, he pointed out.
"At the very least, the Wii Fit is a good means to get people in a better frame of reference or mindset. If exercise and physical activity starts to rise [to the] top of [our] mind, we might help allay some of the problems we've caused for ourselves," Inouye continued.
Although it is hard to say that people will get their heart rates above 120 beats per second for any length of time, the controller and exercises will make them "work out more than sitting on the couch playing a conventional game," added Pachter.
Popular Console
Since the console launched 18 months ago, the Nintendo Wii has blown past market expectations, and its popularity continues to grow. In April alone, some 714,200 consumers in the U.S. bought a Wii, according to NPD Group. That was more than the Microsoft Xbox 360, the Sony PlayStation 2 and PlayStation 3 sold combined.
"This is likely once again to appeal to that beyond hardcore gaming audience that is looking for a different type of experience and a fun experience as well. And more importantly, it's probably going to appeal to parents as well," Gartenberg noted.
Instead of having their kids sitting around playing video games and wishing they were getting some sort of exercise, parents may view this as an opportunity for their children to get more exercise disguised as a video game, he continued.
"It isn't being marketed that way, but I think it will have some parental approval as well," Gartenberg added.
"Given the fact that the majority of Americans are overweight — and diet-conscious — this could be a huge seller," said Pachter.