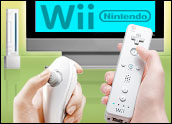 Nintendo unveiled a new game developing tool for its Wii video game console Wednesday. The company hopes the WiiWare tool will attract budding game programmers as well as experienced independent game makers interested in putting their programming skills to the test on the next-generation console and its innovative controller.
"Independent developers armed with small budgets and big ideas will be able to get their original games into the marketplace to see if we can find the next smash hit," said Reggie Fils-Aime, president of Nintendo of America. "WiiWare brings new levels of creativity and value to the ever-growing population of Wii owners."
The WiiWare game creation service, according to Nintendo, will permit developers both large and small to create new downloadable video game content that will be available through Nintendo's Wii Shop Channel. The smaller games will be sold at a lower price, without any inventory risk to developers. Nintendo expects to launch the new content soon as 2008.
Imagination Station
With the release of WiiWare, Nintendo is attempting to tap into the imaginations of Wii acolytes. The tool provides game creators with a simple method through which they can bring their creations to the general public. The game maker anticipates that, when combined with the motion controls featured on the console, WiiWare will lead to the creation of games that provide a new take on established genres as well as innovative designs currently residing only in the minds of these unaffiliated developers.
"The reduced barriers to development provide developers the freedom to create and an inexpensive, clearly defined path to reach consumers, who will ultimately determine which game will become the next big thing," the company said.
The tool will be available via the Wii Shop Channel. As with other content on the site, users will need to cash in their Wii Points — the portal's virtual currency, which is bought with real-world money — to download it.
Changing the Game
With WiiWare, Nintendo is following in the footsteps of Microsoft, which released the final version of its XNA game development tool in December 2006, Rob Enderle, principal analyst at Enderle Group, told TechNewsWorld. Releasing game creation tools is a way for a console maker to generate interest among young programmers to develop for their platform.
"I think everybody realizes that this market lives or dies on game content, and if Microsoft or Sony locks up all the young developers to develop for their platforms, then five years out then Nintendo is out of business because the other two guys have cut off its air," he explained.
It's unclear, however, how great an impact WiiWare will have for Nintendo, said Gartner analyst Van Baker.
"For those few people who develop something that makes it on to the Wii Shop Channel, they have the potential to make a great deal of money if it's a good and compelling game," he told TechNewsWorld. "But is it going to do great things for the Wii? No, I don't think so."
The biggest single challenge facing the gaming industry is the number of talented programmers, Baker pointed out. This is an effort to get people interested in game development early on, and give them tools so they can begin testing their coding skills without shelling out a bunch of money for the platform.
"This is beneficial to the industry overall. Not just to Nintendo. What Microsoft's doing, what Nintendo is doing are beneficial to the industry overall. The game publishers love the fact that this stuff is going on because it gives them a bigger talent pool to choose from," Baker added.