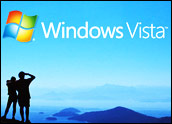 In a recent survey of its customers running Microsoft's Windows operating systems,Devil Mountain Software found that roughly one-third of enterprises that purchased a New PC with Windows Vista pre-installed downgraded to Windows XP.
Major businesses have not deployed Microsoft's latest OS due to compatibility issues and its reputation as a resource hog, according to Craig Barth, chief technology officer at Devil Mountain.
"We have a lot of large firms, and our customers are international in scope. What we're seeing is a trend that organizations are either bypassing Vista, delaying adoption, or debating whether to stick with Windows XP. We're seeing resistance to Vista in the bread-and-butter enterprise datacenter-controlled-and-managed environment of corporate America and the world," Barth told TechNewsWorld.
"Our largest customer, in the financial industry, is totally skipping Vista and waiting for Windows 7. They just don't want to deal with the compatibility and other headaches," he added.
While Devil Mountain's findings are less than good news for Microsoft with respect to Vista, they also suggest that enterprise disdain for Vista could cloud the future of the upcoming Windows 7 OS, due out in 2009. An anti-Vista taint could handicap the software even before the first box is shipped.
Cloudy Vista
Compatibility with drivers and security software has been one of the central inhibitors to deploying Vista for Devil Mountain's customers. While Microsoft has done a good job correcting those issues over the past 18 months or so since Vista launched, the system requirements necessary to run the OS present another significant hurdle for enterprises, Barth said.
"There is a general consensus that in terms of compute horsepower, Vista is much more demanding and you'll have to have a more powerful PC. The trade-off is that you can get a more powerful PC with Windows XP installed and get tremendous performance. Or, you can get a more powerful PC with Vista installed and perhaps get the performance you had with your older PC with XP installed," he explained.
Vista is "sopping up the gains that Moore's Law is providing," Barth said. It uses up the extra performance available in the latest computers just to keep the more complex elements running.
Aside from the operating system's demands, Microsoft has built many layers into the OS that, according to Barth, are problematic for business users.
"There are just so many additional layers. There are digital rights management layers. There's rewritten network stacks. There are so many different layers of software that require significant retesting. An organization is not going to put this on their PCs until they've tested every inch of it," he said.
"Vista is not an incremental upgrade. It's a massive upgrade from XP in a lot of ways. There's a lot of extra code that includes many, many layers and subsystems that are unrelated to the business space that are nonetheless in the OS and could cause complications," Barth added.
The Case for Vista
Microsoft, of course, is not acknowledging a problem with Vista and enterprises.
"Over 180 million Windows Vista licenses have been sold since launch. Additionally, analysts are advising customers to migrate to Windows Vista sooner, rather than later," Craig Cincotta, Windows senior product manager, told TechNewsWorld.
In fact, Forrester Research makes the case for enterprises to deploy Vista in an April 2008 report by analyst Benjamin Gray. Although businesses' reactions to Vista have been mixed, Gray acknowledges, those that opt to skip Vista and wait for Windows 7 will face "some harsh realities."
"To be blunt, customers know very little about Windows 7," he pointed out. "Besides, when it's slated to become available, they know that it's going to be a full release. Meaning? It's going to have a business version and a consumer version — and knowing Microsoft, multiple versions of each. It's also going to support both 32- and 64-bit computing. Beyond these tidbits, everything else is pure rumor and speculation."
The most important consideration companies need to keep in mind — beyond the features and functionality of Windows 7 — is that Microsoft "doesn't exactly have a clean track record for delivering products on time. It also tends to strip out promised features in order to hit deadlines," Gray emphasized.
The question, however, is more than simply whether you should or should not upgrade, said Michael Cherry, lead analyst at Directions on Microsoft.
"Organizations should look at the features that Vista offers, including User Account Control, and BitLocker Drive Encryption, and if features like these add value, including increased protection for the organization's data, then they should consider deploying Vista," Cherry told TechNewsWorld.
Aside from the uncertainty surrounding the Windows 7 release date and features — as well as missing out on valuable features in Vista — if enterprises begin skipping generations of the Windows OS, that would obviously be bad for Microsoft.
"Microsoft would probably prefer that all customers were running on the latest versions of its software. One problem with customers skipping Vista is that it reinforces the customer's tendency to skip every other release of the client," Cherry noted.
"Contrary to the recent Devil Mountain Software survey reported in InfoWorld, Windows Vista momentum is strong and getting stronger," Microsoft's Ben Rudolph, senior PR manager for the Windows client group, told TechNewsWorld.
"We've sold 40 million [copies] in the last quarter alone. Please note that this study monitors only a very small sample — just 3,000 surveyed machines from an unknown number of sources. This means that these users are not necessarily representative of Windows Vista users as a whole, and the article does not provide additional information on the methodology used in collecting this data," he said.
"Additionally, major enterprises like Continental Airlines, the United States Air Force and Virgin Megastores continue to deploy Windows Vista seats by the thousands, and recent analyst data indicates that businesses are adopting Windows Vista at a rate comparable to Windows XP at the same point in time post-launch," Rudolph continued.
Clouds on the Windows 7 Horizon
After months of testing, though, many enterprises have weighed the upside and downside of Vista and decided that the OS is just not worth deploying. Besides, they know that Windows 7 will be out in 2009, so there's no point to upgrading to Vista, according to Devil Mountain's Barth.
"Vetting Vista has been an onerous process, and what you're seeing now is the result of decisions that were made six months — twelve months — ago, when the OS was initially evaluated," Barth noted, "and,you're seeing them downgrade their PCs."
Recommendations from analysts and Microsoft's recent attempts to rehabilitate Vista's tarnished image with its Mojave Project have not moved enterprises very much, he said.
"Microsoft is in a bit of trouble. They've been trying to salvage the image of Vista for the past year, especially this summer with the Mojave experience. If they want to compete with Apple, they have to decide that's what they want to do — but they're going to abandon the enterprise as a result of all these gimmicks and tactics," Barth warned.
IT heads are not impressed with Vista's bells and whistles, such as Aero, and just want to hear about Windows 7. "They want to hear how they're going to make the migration from XP to Windows 7 easier than the migration from XP to Vista — and Microsoft's answer back to the community is to bite the bullet [and] upgrade to Vista to get to Windows 7," he said.
That strategy could backfire on Microsoft because that's not what IT wants to hear, noted Barth.
"It adds up to a bad situation for Microsoft that they need to correct quickly," he suggested, adding that for Windows 7, Microsoft should consider releasing a workstation version of the software a la Windows NT.
"That was the business computing platform. Beginning with Windows XP, Microsoft sort of lost its way. They need to get back to [the] model of … less is more, and provide a leaner version of the OS for IT. They also need to establish a migration strategy. That's what is important," Barth opined.
Despite Barth's gloomy predictions concerning Windows 7, Direction on Microsoft's Cherry said it is "too soon to tell" if issues with Vista will spoil the party for Microsoft's next OS.
"If Windows 7 overcomes some of the perceptions customers have with Windows, including poor performance, then it could be the version that organizations that stayed on XP go to — skipping Vista," he said, adding that Microsoft knows that correcting performance issues in Windows 7 is "critical."
While there are four versions of Vista — Home Basic and Premium, as well as Enterprise and Business — it might have been better to release just two, Cherry admitted.
Still, businesses should hedge their bets and upgrade to Vista, he advised.