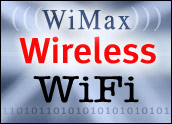 Sprint continued its push toward next-generation WiMax technology this week, announcing an agreement with Motorola to conduct joint testing on wireless broadband to lay the groundwork for future infrastructure and services.
The move follows Sprint's close work with chipmaker Intel, which is also pushing the 802.16e, or WiMax, wireless technology. WiMax has not yet been standardized, but is nevertheless viewed as the WiFi of tomorrow, with wider reach and greater bandwidth and speed.
Sprint is also likely to leverage the wireless spectrum it gains through its pending merger with Nextel, which supports a different wireless broadband technology from IP Wireless known as UMTS TDD.
IDC analyst Shiv Bakhshi told TechNewsWorld the WiMax announcements from Sprint signal the company's dedication to the new wireless technology, but also may play into a larger strategy to unify home and mobile wireless broadband.
"They have a lot of spectrum, much of it fixed broadband spectrum," he said. "So it is putting together a unified core network. The idea is to offer services across multiple access sites and manage subscribers and identify them in the same manner across the network."
Testing Tomorrow's Wireless
Sprint and Motorola said their collaboration is aimed at spurring IEEE 802.16e wireless in the 2.5 GHz band of the spectrum. The companies will undertake lab testing of base station equipment, smart antenna technology and multimedia handsets, as well as field trials in some locations for additional business case evaluation. If some of the trials are successful, they will lead to customer demonstrations and more studies for market applicability, the companies said.
"Motorola will use its deep heritage in wireless radio technology innovation, IP core switching and wireless devices to help Sprint validate next generation wireless opportunities," said a statement from Motorola senior vice president and chief technology officer Dan Coombes.
Early Entry
IDC's Bakhshi said that although Sprint sounds serious about its WiMax technology development, the company is working with a nascent wireless solution.
"They are just jumping the gun on this and want to be seen as one of the leaders in the space," he said.
Bakhshi added it will be interesting to see what comes of the Nextel merger and the different wireless broadband technology it adds to the mix.
"Sprint is trying to position itself as a wireless broadband player," he said. "They're trying to make different layers of broadband available, including WiMax."
More of a Statement
While Sprint and Motorola are only testing the WiMax technology, Ovum Vice President of Wireless Telecoms Roger Entner agreed their announcement comes as WiMax is just beginning to take shape.
"We're still in the embryonic phases of it," Entner told TechNewsWorld. "The standard they will be building hasn't even been finalized. Right now, this is more of a statement of intent than anything else," he said of the Sprint-Motorola deal.
Still, Entner praised the partnership, indicating the two "need each other" — Motorola for a WiMax partner with licensed spectrum, and Sprint to do something with the spectrum it gains along with the Nextel merger. The latter is creating pressure from the Federal Communication Commission to put the spectrum to use.
"Here are two that have sought and have found each other," Entner said. "They both need each other."