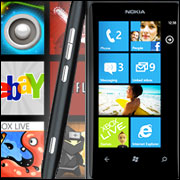 Following months of speculation that Microsoft may be rethinking its approach to getting its beleaguered Windows Phone into the hands of more consumers, two reports came to light on Thursday suggesting that indeed may be the case.
First, echoing rumors last fall that Windows Phone could take up residence on an HTC phone that also sported Android, Huawei chief marketing officer Shao Yang reportedly said that his company was planning a similar dual-booting device for release in the United States in the second quarter of this year.
Adding fuel to the speculation fires, it also looks like Microsoft has agreed to waive the Windows Phone license fees for two phone makers from India — Lava and Karbonn — with the result that both are expected to unveil Windows Phone devices in the coming months, according to a separate report.
A 'Land Grab' in India
"I think Microsoft's move to drop Windows Phone licensing fees for two specific vendors is very much driven by the unique nature of India's mobile market," Colin Gibbs, mobile analyst and curator with GigaOM, told TechNewsWorld.
"India is a huge, untapped market where smartphone penetration rates are very low, and where pricing is crucial," Gibbs explained. "Microsoft hopes to participate in the land grab by making Windows Phone available on smartphones with prices that can compete with low-end Android handsets."
That doesn't necessarily mean Microsoft is rethinking its licensing strategy for Windows Phone across the board, Gibbs added.
"That may change eventually, but if the market share for Windows Phone can grow more rapidly worldwide, I think it will continue to charge manufacturers in more mature markets," he said.
The Developer Factor
"The challenge Microsoft has had is that to get the volume they want, they really need to get into mid- and low-end devices," agreed Tuong Huy Nguyen, a principal research analyst with Gartner.
"Adding a $20 or $30 licensing fee would essentially increase by 50 percent or even double the price of the phone," he told TechNewsWorld.
Meanwhile, "a surge in users, while not directly profitable for Microsoft, given the no-cost license, drives interest from developers, which in turn may kick-start interest in the platform in other markets, where revenue is directly associated with each Windows-based handset and tablet sold," noted Chris Silva, a research director with Gartner.
'I Would Have Concerns'
As for Huawei's reported dual-OS device, that "seems to be a hedge, supporting the OS that's a safe bet in Android while providing a bridge to Windows to maintain interest from users looking to switch platforms," Silva told TechNewsWorld.
"One can argue that such an approach would allow for a dual-persona device: Windows for the workplace, Android at home," he added. "I would have concerns about the device's performance when hosting both OSes and certainly if running them concurrently."
Either way, consumers are unlikely to have much interest in such a device, Gibbs suggested. "The device might appeal to developers and tech enthusiasts, but I very much doubt we'll see substantial sales."
'The Appeal Is Limited'
Dual-booting is "a bit of work," and while interesting to technologists, it can be "a bit disorienting from the consumer point of view," Nguyen agreed.
"Is this what people really want to do?" he asked.
On the PC side, Mac users may have the ability to boot Windows, for instance, "but most of the time people use that just to run a specific program that's not available for Macs," Nguyen explained. "It's nice to have, but how many people need it? How many people want it?"
In short, he concluded, "I think the appeal is much more limited than vendors might expect."