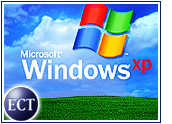 Microsoft's Service Pack 2 (SP2) update to the Windows XP operating system is nearing its release, but repeated warnings from the software giant and a bug that bit some users of 64-bit hardware are highlighting the potential negative impact of the service pack, which analysts have called a whole new operating system in its size and scope.
The bug, which Microsoft product manager Tony Goodhew blamed on new hardware-based security known as no-execute — or NX technology — is an example of how security tightening can render applications inoperable. The 64-bit bug affected a small number of the SP2 beta testers, and Goodhew said Microsoft is working on a fix.
Microsoft already has signaled to developers that programs will have to be thoroughly tested upon installing the new service pack. While the company is working to minimize any problems, security seems now to be more of a priority for the company.
"They're making a lot of noise with the development community that they need to look at their programs and do the testing," Meta Group vice president Steve Kleynhans told TechNewsWorld. "Now, service packs are like minireleases in terms of the testing Microsoft does and the cautions to the market."
Expectations and Perceptions
Yankee Group senior analyst Laura DiDio downplayed the 64-bit hardware issue, telling TechNewsWorld that it is still an emerging market for Microsoft.
DiDio added that while there are always bugs with any software — and the size of SP2 makes it likely to cause issues — it is unlikely that Microsoft will return to the update strategy of the late 1990s, which created more problems than it solved.
"They're doing a better job with each successive release," she said.
She added that while Microsoft inevitably will create some expectation of bugs and problems as it rolls out SP2, the company also must contend with the attention caused by those problems.
"Microsoft is getting wary itself," she said, "because if anything happens, they'll have a lot of bad publicity."
Update Angst
While Microsoft indicated it is making progress on SP2 and will address the NX issue with 64-bit hardware, DiDio said there is growing anticipation of the update because people have been waiting for it for a while.
Also, DiDio said the service pack is coming at a time when migration might deliver good uptake for it, thanks in part to solid performance of Windows Server 2003.
"They're doing pretty good if they can just get over the security thing," she said. "At this point, it's not really their fault, they're just getting hit so much."
Security Sacrifice
While Microsoft has referred to steps taken to prevent problems with SP2, the security measures may very well cut off functionality or break things, Kleynhans said.
"When you're tightening down, you're taking away certain functionality," he said. "But if some of that functionality is used by other applications, you break them."
Kleynhans added that Microsoft has been particularly vocal in its warnings about SP2 because of the service pack's new security settings.
Gartner research vice president Richard Stiennon said that because of its size and new security settings, SP2 is likely to be treated as an entirely new platform by many companies.
Stiennon told TechNewsWorld that the security-first approach marks a significant change in direction for Microsoft, but the company has had little choice with the barrage of viruses, worms and other attacks against its operating system and other software.