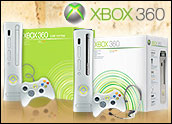 Microsoft announced a new tool to help parents limit the amount of time their children spend playing video games on the Xbox 360 Wednesday. With the Family Timer, parents can program an appropriate amount of gaming and entertainment time on the console for their children on a daily or weekly basis.
The announcement, made in conjunction with the Parent Teacher Association (PTA), is part of a set of tools unveiled to kick-off the second year of the "Safety Is No Game. Is Your Family Set?" campaign.
"As a leader in interactive entertainment, it's Microsoft's responsibility to provide parents with tools they can use to manage their children's video gaming and online experiences, and we have made that a priority from the very start," said Robbie Bach, president of the entertainment and devices division at Microsoft.
Gaming for Families
The Xbox 360 Family Timer augments the console's existing set of parental control features, according to Microsoft. Parents can use it to restrict children's activity time. As their usage time diminishes, "helpful notifications" will appear to warn young gamers that their session is coming to an end. At the appointed time limit, the tool will automatically turn off the console.
The Family Timer will be available for download through the Xbox Live site in early December.
As a part of its family-friendly push, Microsoft also rolled out a new game, "Scene It: Lights, Camera, Action." Based on the movie trivia board game, the Xbox 360 version includes more than 1,800 trivia questions, five new types of puzzle challenges and "Big Button" pads — four wireless devices that allow players to buzz in to answer questions.
In addition, Microsoft also released the family PACT, a comprehensive contract intended to help parents proactively establish rules on media usage for their children. Families are asked to agree on the amount of parental involvement; the amount of access children are allowed, including who they are allowed to play and interact with online; what content they can view or play; and the amount of time they can spend in these activities.
Parents can download the contract from the Xbox Live site. Also included on the site is a Digital IQ Quiz, a Family Guide to Video Games, and a dictionary of gaming terminology for parents.
Families First
The Family Timer and other tools are the second salvo in Microsoft's campaign to expand the image of the Xbox 360 beyond that of a hardcore gamer console and into that of a family-friendly device. Last month, the hardware maker, announced the availability of the Xbox 360 Arcade that boasts a 512 MB hard drive loaded with five arcade-style games. It also added some 100 family-oriented shows to the Xbox Live site for families to download.
The changes are presumably designed to help Microsoft make inroads into the same demographic that has made Nintendo's Wii a big hit since its release one year ago. While the Wii has its share of action-oriented games, it has received a great amount attention for drawing in traditionally non-gamer demographics.
However, the company may be chasing after windmills, said Ted Pollak, a Jon Peddie analyst, who considers the Family Timer a "PR move."
"You can't copy the Wii. You can just imagine four family members with their controllers taking turns bowling. You can't imagine a better family gaming experience than that. Microsoft should stick to what it is doing, which is to provide a very high-performance and high-quality gaming experience."