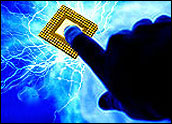 Handset makers are gathering in Barcelona this week for the Mobile World Congress, a conference where the market's biggest players show you why that top-dollar phone you picked up two weeks ago will be obsolete by Labor Day.
Some of the biggest news coming out of the show focused on the multitude of mobile platforms emerging. Prototype devices sporting the Android platformmade their debut; meanwhile the LiMo Foundationbulked up its Linux-based platform, and Sony Ericssonchimed in with its first Windows Mobile unit.
Two other announcements caught my attention, though — one relating to the biggest name in graphics, the other to the world's biggest cell phone maker.
Cashing In Its Chips
The iPhone's popularity has convinced other handset makers that plenty of people want more than a cell phone — they want a pocket-sized computer. Making them will require strong yet tiny processors that use very little power to get a lot done.
Hoping to meet that demand, Nvidia has announced the APX 2500, which it says can bring 720p resolution graphics to a cell phone. The mobile chip is a first for the company, which has achieved its consumer name recognition primarily in the area of graphics hardware for serious PC gamers. It won't be alone here. For example, Intel is expected to soon debut its Silverthorne chip, also intended for high-intensity mobile devices.
In terms of marketing, both Intel and Nvidia are superstars. They've convinced computer makers (except for Apple, of course) to tattoo their logos all over PCs that carry their components, and many consumers often look specifically for those logos when making a purchase.
These companies are no doubt capable of coming up with some powerful chips for mobiles, but I wonder whether they'll insist on having their names stamped onto the phones, like they do with PCs. Do they expect anyone to make a decision on a cell phone based on the processor? Will we soon see smartphones decorated with "Nvidia Inside" logos?
Phones come in many different form factors — and most do not allow you to pick and choose components a la carte as you can with PCs. Your selection is further limited if you're choosy about your carrier. If you're wading through the endless array of phones out there and you finally find something that looks and feels right, offers all of the features you want, and doesn't make you pay for ones that don't, will you turn it away just because it doesn't bear the Nvidia or Intel logo?
On the other hand, geeks are no less susceptible to brand snobbery than any other demographic, and an Intel logo on a phone would give the thing a distinct odor of power — that it's actually got the power of a laptop under its hood, and here's its proof of lineage. In other words, a brand-name logo might be enough to convince someone to buy the pricier phone.
Nokia Grows Legs
Mobile phones and navigation devices are natural partners. Mashing the two together to provide a single communication and nav tool is something that's already been approached from several quarters. Navigation powerhouse Garmin is getting ready to roll out its first phone, building on the Nuvi brand to create the Nuvifone. Google has long offered a free maps program that can be used by many mobile platforms — and it's even thrown in alocation-finding feature for users without GPS.
Finally, traditional mobile phone makers are getting in on navigation by building applications into the phones they make, and Nokia has upped the ante a bit with the beta version of its Maps 2.0 update. Among other things, the update adds a Walk application, which gives users more details about their surroundings and in some phone models sports a compass feature.
There's a new potential revenue stream built into Nokia's Maps 2.0. As before, the turn-by-turn navigation feature is available on a subscription basis, but 2.0 also sells users multimedia guides — photos, video and audio — about their surroundings, presumably for tourists and sightseers. Real-time traffic feeds will also be offered at an additional monthly charge.
With the new Maps package, Nokia is looking like perhaps the most serious phone maker when it comes to navigation (though that may change if Garmin's phone stays true to Nuvi's roots). It's offering a map application designed specifically for its own platform, unlike Google's, which is designed to fit everybody adequately but nobody perfectly.
Who Will Pay?
Some of the additional-cost services, however, raise the question of whether they're worth paying for. As with the first version of Maps, for a monthly price, you get turn-by-turn street navigation. That's something you can also get from a one-shot device like a TomTom for no recurring costs.
Nokia also offers a premium, real-time traffic subscription. Google Maps gives you real-time traffic for free, though I often question its accuracy. Technology can sometimes be frustrating, but only on rare occasions do I feel that it's actually trying to mock me. Sitting in gridlock on the 405 freeway and looking at Google Maps for Mobile telling me traffic's clear all the way down to Long Beach — well, that's one of those occasions.
Also, will a buyer who opts for one of Nokia's pricier GPS phones want to use it as his or her car's main navigation system? Or would that sort of consumer rather pay for in-dash navigation in a new car? Built-in navigation provides a cleaner look to the interior than having a phone dangling from the dashboard.
Screen size is also an issue. Built-in nav gives you a huge double-DIN display, and even a small TomTom has a 4.3-inch screen, compared to just 2.8 inches on the N96, Nokia's just-announced flagship phone. Squinting and hunching to make out a phone's screen is fine when you're walking around the park, but not so much when driving. In order to become a convenient in-car nav system, a phone needs to have a screen at least on par with the iPhone's 3.5 inches.
Click here to e-mail Paul Hartsock.