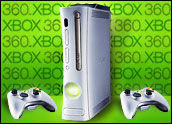 Maintaining a solid lead among hardcore gamers in its competition with Sony, Microsoft has seemingly decided to train its sights on Nintendo and the threat posed by the Wii. On Monday Microsoft announced the immediate availability of the Xbox 360 Arcade, a bare-bones system that includes the Xbox 360 console as well as five best-selling arcade games, a package that appears to target the Wii in both price and content.
"As families gather together this holiday, it's the perfect time to launch a new low-priced, high-value Xbox 360 that plays games, TV shows and music for everyone to enjoy," said Jeff Bell, corporate vice president of global marketing for interactive entertainment business at Microsoft.
"In addition to offering an incredible all-in-one package for families to get right into the fun, the Xbox 360 Arcade system features the industry-leading Family Settings, which allow parents to control what their kids are watching and playing — and we know how important that control is to families around the world," he added.
The new model retails for US$279 and comes bundled with "Pac-Man Championship Edition," "Uno, Luxor 2," "Boom Boom Rocket" and "Feeding Frenzy."
A Kinder, Gentler Xbox
The Xbox 360 Arcade package includes a wireless controller, a high-definition multimedia interface (HDMI) connection to enable gameplay on an HD television set, and 256 MB of memory for storing games and other content like downloaded videos and games from the Xbox Live companion site.
This latest SKU (stock keeping unit) is part a wider initiative by Microsoft to create an experience that will bring families into the Xbox 360 fold. In addition to the new model, Microsoft has also expanded its library of HD and standard-definition "family fun content" available for on-demand downloads from Xbox Live.
More than 100 new TV episodes are available, including 50 "Looney Tunes" classics from Warner Bros. Modern favorites such as "The Backyardigans," the entire "Blues Clues" series and the tween-themed "iCarly" from Nickelodeon have also been added to Xbox Live. The catalog boost will include 10 Spanish languages episodes as well.
Standard-definition downloads will sell for $1.50, while HD downloads will cost $1.75.
Reinventing the Xbox
Microsoft's place at the top of the hardcore gaming heap is one of Microsoft's biggest hurdles as it turns its attention to families because the console lacks a store of family-friendly content, Brian O'Rourke, an Instat analyst, told TechNewsWorld.
"It's primarily seen as a platform for male hardcore gamers, aged 18 to 34," he explained. "And games like 'Halo' reinforce that image," he said.
One attempt by Microsoft to draw in casual and family-oriented gamers was its Xbox Live Arcade, which originally launched a few years ago, O'Rourke continued.
"It offers casual games — including ones that will appeal to children — for download, with most titles priced in the $5 to $10 range. So from one perspective the Xbox 360 Arcade package is an attempt to extend this attempt to reach the more family-friendly audience."
However, O'Rourke said, he is "perplexed about the need to offer a new SKU for this package."
Everybody Do the Shuffle
Microsoft's Xbox 360 Arcade announcement comes a week after a worldwide series of SKU and price shuffles from Sony that put a smaller, less expensive version of the PlayStation 3 on the stage just in time for the holiday shopping season.
With this latest offering, Microsoft seems to have joined Sony in what could result in confusion for consumers and cramped retail displays.
"One trend that's become apparent over the last few months, with the Xbox 360 and the PS3, is the proliferation of SKUs," he pointed out. "As an analyst, I'm finding it hard to keep up with the various SKUs aimed at various demographics and regions.
"I can only assume that retailers are concerned about stocking all these SKUs, and consumers will no doubt be confused by it," he continued.
"Meanwhile, Nintendo continues to flourish with a single SKU that appeals to the entire gaming market," he concluded.