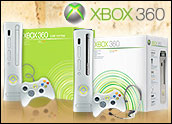 Xbox 360 owners may be in for a pleasant surprise the next time they connect to Xbox Live using the next-generation console. Microsoft released its Spring Update for the Xbox 360 Wednesday on a rolling basis to the Xbox Live (XL) community. The software upgrade brings with it communications support for Windows Live Messenger as well as a host of tweaks for a new and improved dashboard that reduce the operating system's annoyance factor.
"Bringing the largest IM community in the world, Windows Live Messenger, to Xbox 360 makes sense, as Xbox Live has really become the largest social network on television," said Jerry Johnson, product unit manager of Microsoft's Xbox Live.
The updates are another step in Microsoft's quest to make the Xbox 360 another living room device, taking a place next to the stereo and television. "The IM update does fit in with Microsoft's grand strategy to link game consoles, PCs and mobile phones," Brian O'Rourke, an analyst at Instat, told TechNewsWorld.
"In all three areas, Microsoft has operating systems, so the more interaction among those worlds, the better," he added.
You Talkin' to Me?
The update's farthest-reaching enhancement is the access it provides the 6 million Xbox Live subscribers to the Windows Live Messenger instant messaging service. Members send more than two million text and voice messages each day, according to Microsoft XL. The addition of Windows Live Messenger opens up a network of more than 20 billion relationships and more than 260 million active accounts to XL users, who can now connect and chat with friends and family directly from their television.
"For our growing community of six million on Xbox Live, using Xbox 360 is a very social, connected experience. They are using Xbox 360 to play games, music and movies while simultaneously communicating with one another through video, voice and text chat. With this announcement, we are simultaneously expanding the access of Xbox Live Users to existing friends and family while introducing Windows Live Messenger users to the benefits of Xbox 360," Johnson continued.
The new functionality enables XLers to chat with as many as six people on their contact list at one time while they continue to play games, listen to music or watch movies. In a move designed to facilitate the newly added communication capability, Microsoft also announced that it will launch a QWERTY text-input device that will connect directly to the Xbox 360 controller.
Live and On the Fly
The bulk of the other upgrades included in the update improve the Xbox 360's dashboard. Unlocking so-called "Achievements" within games will now trigger a notification pop-up highlighting the name of the Achievement and the game score value. Before the update, gamers had to leave the game and click the guide button to check their Achievements list. Microsoft has also enhanced the family settings features for Xbox Live communications. Parents can now choose from a variety of different defaults for video and voice chat.
The addition of a new Xbox Live Marketplace blade to the dashboard enables XL members to access a variety of content from games to TV shows and movies from XL. With improved Player and Friends lists, gamers can also now quickly see which XL Arcade games their friends are playing and, if they choose, join in, or compare leaderboard scores and Achievements will all the friends on their friends list. "Tell a Friend" capabilities have also been expanded to make it easier for users to crow about their gaming successes.
The system now supports H.264 and MPEG-4 part 2 formats, a significant upgrade in terms of video support. Other video-related improvements allow XLers to fast-forward, rewind, pause and resume videos while the videos are being downloaded from the XL Marketplace. The console stores bookmarks for each video that users play, marking the point at which they stopped watching a video, and the On Screen Display now shows playback information for videos.
Windows Media digital rights management protected content (WM-DRM) can now be streamed from a PC to the console. The system can now determine if there is sufficient disk space for content downloaded from the Marketplace. If there is not enough space, it will provide a list sorted by the size of the videos, game trailers, demos and arcade games to give the player a selection of items that could be deleted to make room. If a device does not have the necessary capacity, the console will block XL members from downloading content.
Not So Whiz-Bang
While Xbox's latest 360 update offers features that are "nice to have," it included no true essential applications, Michael Pachter, an analyst at WedBush Morgan, told TechNewsWorld. "The enhanced functionality makes the Xbox Live experience closer to a PC experience in terms of applications, while still allowing the comfort of the living room," he said.
"It's evidence that Microsoft is trying to leverage its market position on the PC by extending some applications to the game console," Pachter continued. "This really makes sense, although the overall audience for each new function will be limited."
Some 10 million of the next-generation consoles have been purchased since its launch 18 months ago, according to Microsoft. Sales should remain strong, since it's clear that as the devices come down the cost curve, Microsoft intends to pass the savings along to consumers, Pachter noted. "Each price cut should spur demand, and we should see exponential growth of software for the console," he said.
"Download and dashboard improvements will clearly drive greater use, and I expect to see an expanded offering of movies, TV shows, music, etc. with the introduction of the [Xbox 360] Elite. It's hard to download content if you don't have a place to store the content," Pachter concluded.