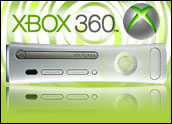 Gamers across Europe woke up Monday to Microsoft's announcement that the company will cut prices on the Xbox 360 Premium and Core models starting August 24, the same day the 120 GB Xbox 360 Elite makes its way across the Atlantic and onto store shelves. The European price drop follows on the heels of a similar cut in prices in the U.S. and Canada during the first week of August. Microsoft launched the Xbox 360 Elite in April.
"We're pleased to be able to offer Xbox 360 at a new, lower estimated retail price," said Chris Lewis, regional vice president, Microsoft E&D Europe.
Bigger Is Better
As in the U.S. and Canada, Microsoft has doubled the size of the hard drive in the Xbox 360 Elite, from 60 GB to a 120 GB hard drive. This, the company said, will enable consumers to store not only content downloaded from the Xbox Live Marketplace, but also their music, photos, movie trailers and other digital content. Other improvements include a high-definition multimedia interface port (HDMI) that offers gamers with high-definition TVs a truer high-def gaming experience, both audibly and visually, than was available though the component video connections on the other models.
Sporting a sleek, premium black finish, the latest Xbox 360 model will retail for 449.99 euros (US$604.67) and Pounds 299.99 ($593.07) across Europe and in the U.K.
In addition to the Elite, Microsoft announced the release of a slew of matching optional components and accessories, including the Xbox 360 120 GB detachable hard drive, Xbox 360 wireless controllers, an Xbox 360 Play & Charge Kit and an Xbox 360 rechargeable battery.
Slashing Prices
Microsoft has lopped 50 euros ($67.35) and Pounds 30 ($59.49) off the price of the Xbox 360 Core and Premium. Those models will now sell for 349 euros ($470.09) and Pounds 249 ($493.87), respectively, across Europe and in the United Kingdom.
"We pioneered the successful concept of multiple products for multiple categories of consumers. First-timers will love the Xbox 360 Core system, which offers an affordable entry into high-definition gaming," Lewis continued. "The Xbox 360, with its large hard drive and wireless controller, will appeal to casual and experienced gamers and families. The Xbox 360 opens up whole new avenues of entertainment for those who seek the ultimate gaming and entertainment experience.
"Whether it's our lead in console sales, record-setting games and accessory attach rates or our leading online service, evidence is everywhere that Xbox is thriving," he added. "When you combine that momentum with these great value offerings with our unbeatable Christmas game lineup, it's clear that Xbox 360 is uniquely placed to take Europe by storm this Christmas."
Hanging On to No. 1
While the Xbox 360, released in December 2005, currently ranks as the No. 1 selling console in Europe, the Middle East and Africa (EMEA), where the console has obtained more than 30 percent of the market (over 45 percent in the U.K, Netherlands and Sweden), the price reduction comes as Nintendo's Wii continues to make huge gains worldwide.
Microsoft has sold some more than 2.9 million units of its next-generation console, according to VG Chartz, a video game and console tracking firm. Nintendo's Wii, which was released about a year after the Xbox 360, has raked in sales of a little more than 2.6 million units
However, the lower price for Europe was expected after the hardware maker cut prices in the U.S., Brian O'Rourke, an analyst with InStat, told TechNewsworld.
"A European price cut is to be expected," he explained. "Microsoft generally cuts prices in the U.S. first because that's where most of their sales volume is, so that they can have the greatest effect on console sales. Microsoft has done OK with the 360 in Europe, but not great. They do need to increase volume there."
The slashed prices come at an important time — just before the holiday season and just in time for purchases made during the back-to-school cycle, Michael Gartenberg, a JupiterResearch analyst, told TechNewsWorld.
"It's not a shocker that they've done this," he said. "It's certainly something that people have been expecting, whether they did it now. It was not a big surprise."
Although the Wii has a significant advantage over the Xbox 360 with a price of less than 249 euros ($335.53), according to Gartenberg, this early in the next-generation console cycle, Microsoft entices more consumers to purchase the platform with every dollar, euro or pound the company can shave from the sticker price.
"We are going to see more consumers who are going to get involved at this point who would not have purchased it prior," he pointed out.
"But it underscores the fact that we're not seeing a breakout dominating player that is dominating the other players in all aspects. What we have here are three evenly matched contenders that are looking at different segments of the market as their core constituency," he added.