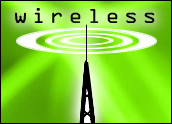 When Sprint announced that Baltimore would be the location of the first rollout for Xohm, a new long-range wireless broadband technology known more lately as "Clear," I could hardly believe it. Baltimore is not particularly known as a hub of technology. Want crabs, we got 'em. Under Armor, we've got that too. But when it comes to releasing new technology, Baltimore is typically toward the bottom of the list. While most of the surrounding Baltimore County has Verizon's FiOS, residents in the city are still waiting.
So when Xohm came to Baltimore in October, I was one of the first in line, as a lucky participant in a test of the service by Intel, maker of the WiMax radio hardware. With a Lenovo Thinkpad laptop sporting an integrated WiMax card, I set out on a six-week test of the fourth generation (4G) wireless technology.
I wasn't sure what to expect. A few years ago, much ado was made about a WiFi deployment in Baltimore's Inner Harbor. It was a less than successful effort, and it seems to be pretty much defunct at this writing. I'd also read about several attempts in cities such as New Orleans and San Francisco that have gradually lost steam.
I also wondered if the technology had advanced enough to be able to provide sufficient speeds for downloads and uploads. Would I have a consistent connection, or would my broadband access be up one minute and down another?
Happy Surprise
The beginning of my Xohm experience began a bit inauspiciously. After signing up and walking back to my car, the first thing I did, naturally, was try to sign on to the service. As luck would have it, however, the marketing and research company in charge of the trial was in an area just outside of Baltimore that did not fall within the Xohm coverage area.
Disappointed, but determined not to let the slight snafu color my opinion, I waited until I got home and signed up for the service. After a few glitches that were due mostly to operator error, within 30 minutes I was signed up and connected to the network.
The first few days were merely OK. I took the laptop everywhere, using it in the car — while others were driving, of course — in the grocery store, local parks and friends' houses located around the city. Anywhere I went, the laptop went as well. The problem in those initial days was that connectivity went up and down. Each time I lost the connection, I had to manually reconnect. It was frustrating and a bit annoying.
Finally, I started poking around in the Intel WiMax Connectivity Utility and found the auto-connect feature. That was just what I needed. Now, even if my connection was dropped, I did not have to worry about manually reconnecting.
From that point on, my Xohm experience was excellent. Though some other trial participants reported spotty coverage, I consistently had a connection and only lost coverage once.
Mobility to the Max
Six weeks in, I have just three words — I love Xohm! The service has given me mobility like I had never imagined. I can go anywhere in Baltimore and still have access to e-mail and the Internet. The service is as fast as or faster than my wired DSL (digital subscriber line) service or just about any WiFi hotspot I've used, and it gives me the option of working anywhere.
Photo, video and music uploads and downloads were snappy. Streaming video and audio came through with little to no lag time or repeated buffering. Accessing secure virtual private networks: not a problem. Overall, Xohm was just what I had always thought a municipal wireless broadband service should be.
That's not to say that the technology couldn't use a few improvements. For instance, switching between WiMax and WiFi was a cumbersome process that needs to be streamlined. The technology could also use a backup feature that in case you stray from the coverage area it switches access to another Sprint data network. In addition, that auto-connect function, not manual connect, should be the default setting.
Applications for Xohm run the gamut. If the network is deployed across the country as Sprint and Clearwire plan, its usefulness for mobile professionals and businesses will increase exponentially. It would be an excellent solution for schools and other professions in which Internet connectivity is a must.
Clear Specs
Last Monday, Sprint and partner Clearwire announced that the deal the two companies had been working on to merge Clearwire's 4G network with Xohm had been completed. Xohm, they said, will be rebranded to "Clear" as the two partners continue to deploy the network in more cities.
Clear is currently only available in Baltimore, but cities up next for Clear include Chicago; Dallas/Ft. Worth; Boston; Providence, R.I.; Philadelphia and Washington, DC.
Connecting one's computer to the WiMax signal is done through a home modem, an ExpressCard or a USB plug. Some new devices are also being built with the required hardware built in. The modem is priced at US$80, and the ExpressCard and USB plug cost $60.
Laptops and mobile devices from Nokia, Acer, Asus, Lenovo and Toshiba are also competitively priced.
There are several options for Clear service. Home — broadband service for home or a small office — is priced at $35 per month. On-the-Go, for users with a Clear-enabled laptop or mobile device, costs $45 per month. The Daily On-the-Go offering — for those who want to pay for access only on the days they will need it — goes for $10 each day. For those who want to use Clear on two types of devices, whether through a home modem, data card, laptop or mobile device, runs $65 a month. However, the service is running a special that takes between $5 and $15 off of the service, depending on the type of service, for six months.