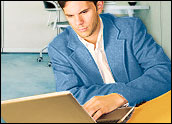 The time Americans devote to social networking sites and blogs has jumped dramatically in the last year, according to new figures from Nielsen. People in the U.S. spent nearly a quarter of their online time — 22.7 percent — on social networks and blogs in June 2010. That was up from 15.8 percent in June 2009, for a 43 percent increase.
The next most popular Internet activity was playing games, with U.S. online consumers devoting 10.2 percent of their online time to them, compared to 9.3 percent a year ago, according to Nielsen.
Corresponding via email, meanwhile, dropped from taking up 11.5 percent of online time to 8.3 percent.
Where It's At on the Net
With 41.2 percent of U.S. consumers' online time devoted to social networking, social games and emailing, other online activities are becoming neglected. The time consumers spent on instant messaging, for instance, dropped to 4 percent from 4.7 percent. Portal usage dropped to 4.4 percent from 5.5 percent.
Meanwhile other once high-growth categories have slowed dramatically. Search increased to 3.5 percent in June 2010 as a percentage of time devoted to this category — compared to 3.4 percent a year ago.
Watching videos or movies was the only other activity to experience a significant growth spurt in terms of share in online activity, growing by 12 percent from 3.5 to 3.9 percent.
None of this is surprising, said Scott Testa, a professor of marketing at Cabrini College.
"Social network sites like Facebook and Twitter is where Internet use is moving," he told TechNewsWorld. "That is why providers like Microsoft and Google are trying to mimic these features as much as possible."
Advertising Models
Advertisers are following consumers onto social networks, David E. Johnson, CEO of Strategic Vision, told TechNewsWorld. "Facebook is where advertisers want to be right now — so this shift is having an impact on many different levels."
Take political advertising for example. Local campaigns are finding that a Facebook page loaded down with fans is a good way to psych out a competitor who may be better funded but has less of an online presence, noted Johnson.
"I have seen well-heeled candidates loss all sight of perspective because their competitor had more Facebook fans," he observed. "What they forget is that many of these fans cannot vote in their elections. But they still change strategies and tactics to draw as many as possible in."
Whither Email
Extrapolating from the statistics, one could assume that email is growing less important. While there has been much debate over email's role in a social media networked world, few see it declining substantially in use.
"If that is indeed a trend, it will take a very long time to manifest itself," Testa said. "There needs to be something else, something better than social networking, to completely take its place."
Email will never die no matter how popular social networks become, maintained James Brehm, senior consultant with Frost & Sullivan. "Business will always be a driving force in the use of email."
That said, activity social networks will certainly nudge aside traditional email use in certain scenarios, he said. "I think we are just in the beginning of this trend of social networking use. Ten, twelve years ago, providers like AOL and Yahoo had a glimmer of how it could be, but they weren't able to execute it. Now Facebook has pulled it off, and we are just beginning to see what it can do."