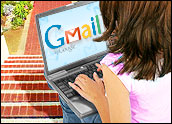 Google is making a play for social media users with Buzz — a new tool that enables Gmail users to view media and status updates of friends.
Typically, when Google enters new territory, it is enough to send stock prices plummeting and analyst wheels spinning. Oftentimes, there is a good reason. Consider the ruminations on the fate of standalone GPS providers such as TomTom following Google's introduction of a GPS-based navigation app.
This time, though, things may be different.
800 Pound Gorilla
In the immediate term, Google Buzz is going to have an impact, said Columbia University lecturer Simon Sinek, a leadership consultant and author of Start with Why.
Google "is the 800-pound gorilla in the industry — if it sneezes, everyone feels it," he told TechNewsWorld. "When they came out with an email client years ago, that took away share from Hotmail. Their IM product is not as a good as AOL's, but people use it anyway."
Google Buzz will take advantage of the massive user base of the company's ubiquitous Gmail client. "It will leverage those captive eyeballs as people send emails and messages," said Sinek.
However, social media is not Google's core competency, he pointed out, suggesting that Buzz is more a market-chasing ploy than anything else.
"Google's mission is to organize the world's information — that is why it exists. This has nothing to do with that. It is just mission creep," Sinek concluded.
Organization and Aggregation
Google Buzz "is not going to have a tremendous impact unless Google starts aggregating status updates from Facebook and to a lesser degree, Twitter," suggested Evan Bailyn, the founder of First Page Sage. In other words, he told TechNewsWorld, if Google does what it does best with this new networking tool — organizing information — it might create a competitive differentiator. If it doesn't, then it won't.
"No question this will take away some traffic or time from the social networks," said Bailyn, "but if it has any impact at all, it will be because people have been able to find new information on Google or in Gmail."
If Google is planning to integrate and aggregate, then it will likely meet up with resistance from the social networks, said Bailyn. "I can't imagine they will cooperate if they think they are going to lose traffic."
Google's plan to have people re-select friends all over again to participate in this feature is not practical either, he added. "Why would anyone want to go through the work of creating a quality group of friends a second time?"
Got What It Takes?
On the other hand, there are reasons to expect Google to gain significant traction in the social networking space, John C. Havens, SVP of social media at Porter Novelli, told TechNewsWorld.
"Gmail's IM client is excellent. I know a ton of people who use that over Skype, so adding status updates and so on in that environment would be useful," he said.
"Also, people will likely aggregate their posts — which are the equivalent of tweets — to send to Facebook or Twitter via a push client or maybe something like Posterous," added Havens, noting that there are enough services out there that one more social network won't really make a difference.
From a marketing perspective, one factor to consider is that if there are any SEO benefits from Google Buzz, people will use it more, Havens said. "Likely, there will be [SEO benefits], since it's Google. Since tweets can raise your SEO — using appropriate keywords — likely Google's new social networking app will as well."