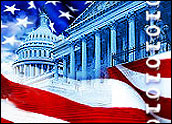 The expression, "Inside the Beltway" is often used in a pejorative sense — as a vague insult referring to an amorphous group of politicians, policy wonks, nonprofits, think tanks — basically, anybody who revels in the nuts and bolts of federal legislation.
Given what's currently happening on Capitol Hill and Pennsylvania Ave. — the still-smoking US$787 billion stimulus law; the brewing controversy over an upcoming healthcare initiative; an outright war between Democrats and Republicans over the Obama administration's budget proposal — it's not just the usual political hacks who are interested in what is happening in D.C.
For better or worse, the economy is driving significant change in Washington, with historic legislation not only being proposed, but also passed and signed into law. Fortunately, for average citizens who want a legislative fix, there are a number of Web sites available that aggregate — and in some cases,explain — what's going on.
General Resources
If you only have time to check out one site, visitGovTrack.us. It is an independent site that tracks the status of U.S. legislation, voting records in the Senate and House of Representatives, activity in congressional committees, and updates to the Congressional Record.
GovTrack.us aggregates its information from the Library of Congress' THOMAS, the House of Representatives, the Senate, the Office of Management and Budget and the Congressional Budget Office –all of which are good individual sources as well.
The Congressional BudgetOffice Web site includes blogs on major legislation. To cite one example, a post on the "Helping Families Save Their Homes Act" states that the cost of enacting the bill would be an increase in direct spending of about US$8 billion over the 2009-2014 period, and a reduction in direct spending of about $15 billion over the 2009-2019 period, according to CBO estimates.
GovTrack taps Project Vote Smart — another good site to visit — for bill highlights. It relies on the Cornell University Legal Information Institute for the text of the United States Code and other data provided in "law in context" pop-ups that appear in the text of pending legislation.
The site is easy to navigate: There are feeds for roll call votes, for activity on various legislative proposals and, most recently, for the YouTube channel for Congress. The site also compares and contrasts the differences between House and Senate versions of specific pieces of legislation, such as the stimulus bill.
The Obama Administration
President Barack Obama campaigned on a promise of transparency; thus far, his e-initiatives reflect that agenda. As he was sworn in on Jan. 20, the White House Web site relaunched withseveral tools to engage people — the most notable being a forum for legislation that has passed Congress but not yet been signed by the president. The Obama administration is posting bills for five days, in order to give people a chance to comment before the president accepts or rejects them.
Another Obama Administration Web site worth checking out is Recovery.gov, a site that monitors how the the $787 billion in stimulus funds provided in the "American Recovery and ReinvestmentAct," will be spent. Visitors will be able to search the site a few different ways as the money is distributed by federal agencies. Search categories will include state, congressional district and federalcontractors. The site will also display that information through maps, charts and graphics.
State by State
All 50 states give residents a way to track local legislation. Some sites, of course, are better than others, with easier search capabilities and Web 2.0 functionality. Blogs are becoming a tool that some politicians are willing to use, as a quick survey of these state Web sites indicates:
Miscellaneous Resources
There are also a plethora of niche sources. Bloggers, special interest groups and nonprofit organizations all religiously track legislation that relate to their interest. The danger, of course, is that special interests have their own take on a subject and oftentimes their legislative "tracking" morphs into editorializing.
Still, for issues important to you, they are definitely worth a look.
The Government Accountability Project, for instance, is a nonprofit group that tracks whistleblower-related information, in general, but has a heavy emphasis on legislation. It reported, for instance, that the stimulus law gives whistleblower rights to contractor employees but fails to protect federal workers.
Businesses can turn to any number of advocacy sites — from Washington, D.C.'s Real Estate Roundtable,which is an excellent resource for tracking federal legislation concerning commercial real estate, to the Financial Services Roundtable, also D.C.-based.
Law firms are good tracking resources too. For instance,Venable's banking practice recently issued two alerts related to TARP (the Troubled Asset Relief Program).