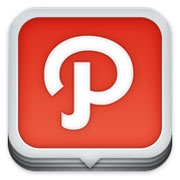 Path, a social networking startup designed for the mobile environment, on Thursday launched a new social search feature that is both simple and highly intuitive — and that plays to Path's unique strengths as a private mobile social network.
Here's how it works: A user launches the search function via the new search field at the top of the Path home screen, and is then presented with a number of searchable categories, including names, months, places, moments, weather, seasons, time, emotion, birthday and holiday.
A user might search for "rainy day in New Orleans" or "winter in Washington, D.C.," or "Mom happy at her birthday party" or "Dad funny at Sunday dinner," for example. Searching by time might bring up magazine articles read on a certain Sunday, or a list of everything logged for the month of July.
Another feature, called "Nearby," brings up moments captured near the user's current location. Personalized search suggestions also will pop up when the search bar is tapped.
Not Google's Flavor of Search
Clearly this is not a search feature that Google could ever hope to rival, at least in terms of personalization. In short, Path, which bills itself as a private social network and a smart journal, has built a search feature that almost redefines the meaning of search.
"Path positions itself as a boutique-level social network, and the search function permits a boutique-style search approach to curating and accessing material, much as we associate the present with the past memories," Rich Hanley, director of the graduate journalism program at Quinnipiac University, told TechNewsWorld.
"We know the dates of events and can retrieve our emotional state in the physical world," he continued."Path approximates this approach in social media."
Here is another way to look at it: "Think of Facebook as Home Depot with long aisles to travel before reaching a pile of stuff, and Path as a local hardware store owned by the person who lives in the apartment above it," suggested Hanley.
Path's scale is small and personal, he emphasized, and it is betting that small, personal and searchable is what social media ought to be about.
Search Rules for Path
The function also comes with its own guidelines for searching effectively. Path advises users that using "my" is a great way to search for moments posted or tagged, for example, and that "or" works in searches for multiple people. It's a good idea to avoid punctuation in search terms. Also, emoticons can be used to search for emotions.
Path Search is being rolled out incrementally and only in English. It can be downloaded to an iPhone or iPad at the App Store, or to Android devices at Google Play.