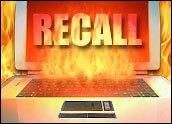 Sony has issued a voluntary global recall of 535,000 Vaio notebook computers after reports of a defect in the devices' temperature control software was brought to its attention. The flaw can cause the notebook to overheat, sometimes to an extreme degree.
The recalled products are from the VPCF11 Series and VPCCW2 Series notebook computers, slightly less than half of which are in the U.S.
Sony has also offered a firmware patch for the defect, Stacey Palosky, spokesperson for the U.S. Consumer Product Safety Commission, told TechNewsWorld.
Battery Burn
Sony received 30 reports of units overheating to the point where the keyboards and casing became deformed, she noted, pointing to the report offered by CPSC on the recall. No injuries have been reported, but the defect has the potential to cause the notebook to overheat so much it could cause skin burns, she said.
The models, which were manufactured in the U.S. and China, have been sold at stores including Best Buy, Costco, Fry's, Amazon.com and Sony Style retail stores, as well as the SonyStyle.com Web site, between January 2010 and April 2010. They retailed for between US$800 and $1,500.
Consumers can either download the fix or arrange for Sony to pick up the device have it installed for them.
Other Recalls
Sony is one of many other electronic device manufacturers that has had to recall products because of overheating or even possible fire safety issues. In 2008, the company recalled 400,000 notebook computers — again from its Vaio line — because they were overheating. It had similar problems in 2006 with lithium batteries that were overheating and even exploding. That particular episode affected more than just Sony, however — other PC vendors that used the defective batteries included Dell, HP and Apple, leading to their own recalls as well.
The problems are not limited to notebook or laptop computers. Cellphone devices have experienced similar problems — perhaps a more worrisome development as they are more likely to be close to a person's body than a notebook.
One of the more tragic incidents was a case three years ago in which a man's cellphone reportedly caught on fire when it was in his pocket, causing significant injury. There have also been accounts of fires on airplanes due to lithium batteries.
Supply Chain Problems
Although this is apparently a software problem, and thus presumably better under Sony's control, in general, global device manufacturers can expect to have to deal with more recalls as supply chains become more convoluted.
A number of high-profile recalls have occurred this year that are not directly tied to the core product but rather to packaging or to components or ingredients, Mike Rozembajgier, vice president of recalls for ExpertRECALL, told TechNewsWorld. "This further highlights the need for manufacturers to have confidence in their supply chain partners," something that "becomes increasingly difficult as the supply chain becomes more complex," he said.