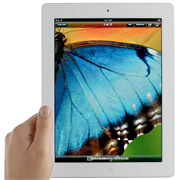 The adoption of tablets has reached critical mass in the U.S., according to comScore. In fact, one in every four smartphone owners also used a tablet during the three-month period ending April 2012.
What stands out most about this particular study, though, is the link it makes between TV and online video content and the growth of tablets. Tablet users were nearly three times more likely to watch video on their device, compared to smartphone users, and one in every 10 viewed video content on their tablets almost daily, the study found. Of those viewing video at least once during the month, one in four paid to watch content.
In short, tablets are poised to disrupt the way people engage with the digital world, both in mobile mode and in the home, the report concluded.
comScore did not respond to our request for further details.
Whither Television?
This "disruption" is already starting to play out in a number of ways. Online retailers are finding tablet users are more likely to buy from their sites than smartphone users, for instance, and they tend to spend more money while they are at it.
It has become almost de rigueur for advertisers during the Super Bowl, to cite another example, to assume that viewers are following the game both by television and on a mobile device. Complementary ad campaigns are thus designed for both screens, with the mobile format playing a supporting role to the clever TV ad.
These trends have been under way for some time, but what is just now starting to become clear is that tablets will remake the way consumers interact with television content as well. comScore's finding that a good-sized number of tablet viewers are willing to pay to watch videos underscores that premise.
"There certainly is a recognition by advertisers that consumers' TV viewing habits are changing," Cameron Yuill, founder of AdGent Digital, told TechNewsWorld. "All the data we have seen suggests it is not necessarily an either/or experience — but rather, consumers are viewing TV and using their tablets at the same time."
A Primary Viewing Platform
Perhaps what is more interesting, Yuill said, is the data that suggests consumers are starting to use tablets as their primary viewing platform, which clearly has major implications for advertisers and publishers alike.
However, advertisers accustomed to focusing on television are only slowly accepting this new channel.
There is some early recognition on the part of advertisers of the importance of tablet advertising, Yuill said. However, the industry is still in a very nascent stage in terms of advertisers running campaigns on tablets in any volume.
There are several reasons. Ad dollars tend to be laggards in following eyeballs, generally speaking.
Also, "iAd's ridiculous high spend thresholds prevented many advertisers testing tablet advertising," noted Yuill.
There is also a lack of compelling ad units easy to implement on tablets. "Sales forces are not — with the very rare exception — breaking out and selling non-app tablet inventory," Yuill observed.
More Links
Advertisers are noticing links between activity on TV and corresponding activity online, however, which could propel more cross-advertising, as well as cross-content development, between platforms.
"We've seen a strong correlation between TV and paid search clicks," Dan Malachowski, senior marketing strategist at Performics, told TechNewsWorld.
Paid search clicks spike directly after ads air, he said, partly due to people being on their tablets while they're on their couches watching TV.
"As for content, it's being more fluidly shared across screens — TV, tablets, smartphones, laptops," said Malachowski.
Eventually, advertisers will be interested, even heavily invested, in both TV and tablet audiences — at which point, they will automatically integrate TV and tablet advertising campaigns.
Apps will play an important role in this integration and coordination, Dean Donaldson, global head of innovation at MediaMind, told TechNewsWorld.
"People are already getting used to being offered an app from a TV or cable channel to watch additional content on the fly," he noted.
They are also incorporating a social media element, encouraging viewers to chat about the program online.
"Ultimately, I can see a scenario in which TV is automatically and simultaneously pushed out to the app," said Donaldson, "including any ads."