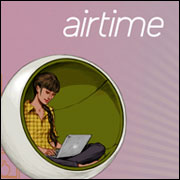 Web entrepreneurs Sean Parker and Shawn Fanning, best known for propelling music into the digital-download age with Napster more than 10 years ago, have launched a new endeavor, Airtime, with much fanfare. It is a browser-based video chat service that connects people via their Facebook login directly from the Airtime website.
It is aimed not only at people who want to chat with their friends, but also at those who want to find new friends — or at least new video buddies — to chat with about specific subjects or similar interests.
Airtime can connect strangers based on location and shared Facebook interests. Once connected, they remain anonymous until they decide otherwise. It is similar to Chatroulette in that users can click on the "next" button if they want to end a particular chat and find someone new.
The service also offers users shared live experiences, such as being able to watch YouTube videos together. More content-sharing options will be coming soon, according to the company.
Celebrity Launch
The application launched in New York with demos from a slew of celebrities including Jim Carrey, Ed Helms, Alicia Keys, Julia Louis-Dreyfus, Joel McHale, Olivia Munn and Snoop Dogg.
Their participation is not surprising — Parker and Fanning are celebrities in their own right, albeit in the tech field.
Besides Napster, they have worked on Facebook, Causes, Spotify and Path. They have a soft spot for Airtime's business model, though, as the two met online in a chat room 15 years ago.
Airtime did not respond to our request for further details.
A New Approach
There are many reasons to love this concept, said Scott Wharton, CEO of Vidtel.
"I think there is an insatiable demand by people to meet on the Internet face to face in real time," he told TechNewsWorld.
Wharton recalled evidence of this demand stretching back to the 1990s, when he was product manager for Internet Phone, the first commercial VoIP and video client, at VocalTec.
"It offered a community browser that allowed people to go into rooms based on their interests, and that was hugely popular," he said.
Airtime builds on the ground Chatroulette laid a few years ago, added Wharton, but with advantages.
"Chatroutlette was completely random," he noted. "Airtime is on to something better — there are a lot of people out there that don't want to talk to strangers about just any topic."
Google Hangouts comes closest as Airtime's current competitor, Brad Hunstable, CEO and cofounder of Ustream pointed out.
"But what differentiates Airtime is their focus on the friend/friend, social connections and the trust of allowing users to connect with a total stranger," he told TechNewsWorld.
Its Limitations
Airtime does have its limitations, Hunstable noted.
"The clear hurdle that Airtime has yet to overcome is a way to monetize social and to impact the mobile market," he said.
Airtime has a problem that is more fundamental, though, according to Wharton — the technology it uses.
Adobe Flash "is just awful," he said. "The main reason they selected it, I would imagine, is because it is free and embedded in most browsers. But Adobe Flash doesn't come close the quality you see in Skype or Google Chat."
There have been other companies that tried to penetrate the video chat market with similar models, according to Wharton, but they failed miserably — in large part because of Adobe Flash technology.
"There have literally been dozens of companies that have tried to use Flash as the platform of choice and plug them into Facebook. All have failed so far — even with star studded backing," he said, pointing in particular to Socialeyes, launched last year by Rob Glazer of RealNetworks fame.
Another example is Tokbox, Wharton said.
In place of Flash, he said, the next generation of video chat services will likely use a new technology called "WebRTC," which is backed by Google and is free and available for license. "The quality, though, is much better."