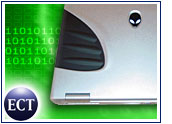 In the past, mobile computers could not begin to approach the processing power of desktop machines. When you bought a new laptop, you had to be happy with the graphics processor, CPU, and other fixed-system components. These days, you don't have to settle for meager performance when you are on the move.
One of the companies helping to shape the ultra-powered laptop market is Alienware. The company released a new version of its high-end laptop line — the Area-51m — last year and recently sent us one of the new models so we could put it through the paces. While the Area-51m does have some drawbacks — like a fairly high price, heavy weight, and merely average battery life — this computer, being completely upgradeable, is perhaps as close to an aesthetic and functional ideal as a contemporary notebook can get.
Alienware's desktop and laptop computers are often overlooked in corporate environments because the company historically has focused on the power-user community — gamers, 3D developers, and hardcore speed junkies. However, Alienware's systems are anything but toys.
After all, to create a high-end gaming PC, all the components must be top-notch, including the graphics card, hard drive, processor, RAM, and system bus. Moreover, everything must be completely upgradeable so that users can take advantage of the latest technology.
Pushing for Power
Recently, Alienware has begun to target the corporate market, particularly with the svelte Sentia notebook line and with its push to market the Area-51m as a desktop replacement rather than just a high-end gaming PC.
For this review of the Alienware Area-51m, we benchmarked the machine from top to bottom using PassMark's Performance Test, SiSoft's Sandra and several other industry-standard benchmarking packages. We also tested the machine using several graphics-intensive applications, such as Battlefield 1942, Halo, and Quake 3. Then we compared the Area-51m with leading desktops from several major manufacturers.
The results of those tests surprised us because, unlike many other laptops that companies try to pass off as desktop replacements, the Area-51m can successfully go head-to-head against some of the most powerful desktops on the market. According to the benchmark results, we easily could have been running the tests on a custom-built, high-performance tower.
Equally surprising was the fact that the specs on our review unit were impressive right out of the box, with no overclocking or tweaking necessary to wring outstanding results from the system.
Out of the Box
The Area-51m that Alienware sent us came with a Pentium 4 3.2-GHz processor, plus the ATI Mobility Radeon 9600 graphics card. Alienware also sent us the Nvidia GeForce FX Go5600 graphics card for test comparisons.
Both the Nvidia and ATI laptop cards are relatively new, having been introduced to the industry in the latter half of 2003. Alienware quickly adapted the Area-51m's motherboard architecture to incorporate the new graphics modules. In doing so, the company removed two of the major barriers to notebook adoption for power users: graphics performance and upgradeability.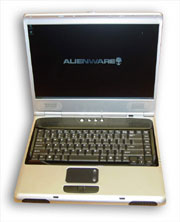 ---
With the Area-51m, when ATI or Nvidia releases a new chipset, users will not be left behind. Traditional notebook graphics chipsets cannot be upgraded because they are soldered onto the motherboard.
We initially benchmarked both cards on the system using PassMark's Performance Test software. The Nvidia card performed acceptably well under 2D conditions, beating out the ATI card in some tests, but the ATI card pulled ahead with 3D graphics. See Table 1 below for the end results of this benchmark.
Of course, notebook graphics power still falls short of the speed you can achieve with a desktop machine because the laptop form factor has limited space, limited power, and limited cooling capability. But the new Nvidia and ATI mobile graphics cards produce exceptional results that leave traditional notebook graphics chipsets behind.
Illustrating this, the Area-51m's display — the interface between the graphics card and the users — is a beautiful Ultra Extended Graphics Array capable of rendering at resolutions of up to 1,600 x 1,200 with a refresh rate of 60 Hz. While this rate is standard for LCD technology, it cannot truly compete against high-end desktop monitors, which can have refresh rates roughly double that figure. Even so, 60 Hz translates to 60 screen updates per second, which falls well within the good-enough category.
Industrial Art
The Area-51m may be a high-end machine with graphics-processing superpowers, but it is also a fashion statement. With a design that would be equally at home in an industrial art museum or on the desk of a corporate officer, this desktop replacement offers performance with style.
Its case is a real eye-catcher with a strategically placed alien-head logo whose eyes light up in various colors according to the status of the power supply. You don't actually see the eyes when you are doing work on the machine, as they are on the opposite side of the screen, but everyone around you can admire this feature.
Admittedly, there are times when glowing alien eyes may be a distraction. Users can turn off this feature in the system's BIOS so that the eyes don't light up when the system is running. You also might want to turn off the eyes when you want to conserve battery power.
Adding to its flexibility, the Area-51m is compatible with several kinds of drives, including a CD-ROM, a CD-RW, a combo CD-RW/DVD, or a second battery. The unit we tested came with a combo CD-RW/DVD drive.
Keys to Quality
At 13 inches by 11.5 inches, the system occupies a rather large space and might not fit well on some airline tray tables. It also weighs about 10 pounds, a figure that swells a little when the rather large AC adapter is taken into account. While this weight might be a deterrent to some, it contributes to an overall feeling of quality. The machine quite literally feels well-designed — tightly packed with dense technology. Unlike many other notebook computers released by major manufacturers, the Area-51m's strong case does not flex with pressure.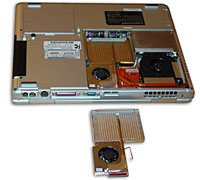 ---
The system also features a superb keyboard with 19.7-mm translucent keys. With a generous stroke depth, the keyboard is both subtle and firm — a rarity in portables these days — and the Synaptics touchpad has useful vertical scrolling buttons.
In fact, the keyboard is the kind you'd want to spend hours typing on because it is so forgiving. A mistyped key on a badly designed keyboard can lead to a typo or a miskey that forces you to repeat the same stroke more carefully. The Area-51m's keyboard is the opposite of that, with the keys themselves seeming to funnel miskeys into the right key. Those on the review team who tried the keyboard commented on its high quality.
System Components
Support for peripherals is another strength of this system, which comes standard with a multifunction remote control that lets you control the mouse and multimedia functions at a distance. You can turn the computer on or off while it is running on AC power and can control programmable features, such as MP3, DVD, and even Microsoft Office applications, from a distance. The remote even gives you alternate mouse control with independent left and right buttons.
In addition, the Area-51m offers digital 5.1 surround sound through a digital-out port. If speakers are not your preference, you can plug in a pair of headphones. The laptop comes equipped with a built-in microphone and a microphone jack. Audio quality is outstanding, with a dual-front speaker system that delivers impressive sound for a machine of this size. Unlike many laptops, these speakers don't sound like they are full of too much treble. They can easily fill a room.
Based on a desktop Pentium 4 processor that runs at 3.2 GHz, the notebook is top-of-the-line all the way. But the key component of this system may be its 800-MHz system bus. For those unfamiliar with the role a system bus plays, see our TechNewsWorld article "The Insider's Guide to Overclocking." The system bus is one of the most important elements on the motherboard. It is the primary funnel through which all processor data must pass. At 800 MHz, the Alienware's system bus is twice as fast as that of the majority of laptops on the market — which means it can compete successfully with most high-end desktop machines.
See Table 2 for the results of our benchmark tests against a Dell Dimension 4600 and a Gateway E-Series machine. The Dell has a Pentium 4 2.4-GHz processor and an Nvidia GeForce 4 MX 440 graphics card, while the Gateway E-Series has a Pentium 4 3.06-GHz processor and an Nvidia GeForce 4 Ti 4200 graphics card.
While we were able to beat the Alienware with a custom-built machine running a 2.6-GHz Pentium 4 processor with a high-end hard drive and a current-generation graphics card, the tests against the Dell and Gateway reflect a more accurate comparison between fast, production desktops and this Alienware notebook. Overall, the Area-51m beat both the Dell and the Gateway.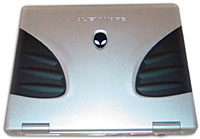 ---
But all of this processing power makes for a very hot machine, one you likely would not want to use on your lap for any length of time. The bottom heats up quickly, and the cooling fans can be heard working hard. Unfortunately, the system's battery can barely keep up with all of this power. Running at full speed, the system can last for only about two hours before needing a recharge. While this is not terrible, it means a single battery charge would not suffice for a U.S. cross-country flight.
Ultimately, however, this high-performance system is meant to be left on a desk, which means the short battery life and hot underside aren't as detrimental as they would be in, say, thin-and-light Centrino-powered machines.
There are ports aplenty on the edges of the Area-51m, including parallel, external monitor, FireWire, several USB 2.0 plugs, a Type II PC Card slot, and a three-in-one media reader. Communications shouldn't be a problem, especially with a built-in 100 Mbps Ethernet adapter, 56 Kbps modem, and 802.11 a/b/g networking.
Fastest in the Galaxy?
All in all, it is hard to find cause to complain about this laptop. It is unabashedly a heavy machine, but it is not trying to be otherwise. It is a heavyweight contender that can perform well in the world of desktops — and it is beautifully designed. If you do not want to be noticed while working at your local coffee shop, leave your Area-51m at home. This machine is so nicely designed that it will raise eyebrows and draw lots of attention wherever you go.
My primary gripe with this laptop is that there are very few customizable options in the BIOS. Perhaps in future BIOS updates, Alienware will give more power to its users so that they can overclock the system bus and processor and set the AGP aperture to boost performance. Alienware machines cater to technology-savvy users, so why the company would offer a limited BIOS isn't explicable. Then again, why anybody would actually want to overclock a 3.2-GHz Pentium 4 running on an 800-MHz system bus is beyond me, too.
There are certain sacrifices you have to make when you incorporate this much power into a laptop — namely battery life, light weight and low price. But for those looking to replace their desktops with what is essentially a mobile office, the Area-51m is up to the challenge for all kinds of computing. For those users who focus on Web browsing, e-mail, word processing, or related office work, Alienware's Sentia laptop probably would be a better fit. But for those demanding the most powerful computing available in a small form factor, the Area-51m is hard to beat.
The Area-51m is available in several colors in addition to the silver model we reviewed. Depending on the configuration, the computer ranges in price from $2,500 to $4,000. That sounds like a lot, but if you were to add up the cost of the high-quality components separately, you would be hard-pressed to build your own system with as much power or style.
---
Table 1. Graphics performance tests on the Alienware Area-51m laptop show the difference between the Mobility Radeon 9600 and the Nvidia GeForce FX Go5600 mobile graphics cards.

---
Table 2. Performance of the Alienware Area-51m laptop measured against production Dell and Gateway desktop machines using PassMark's Performance Test software.
---
Kirk L. Kroeker is the managing editor of TechNewsWorld and LinuxInsider.
---