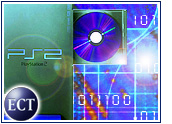 Sony announced today details from the presentation given this morning by Kaz Hirai, president and CEO of Sony Computer Entertainment America, at the 2004 Electronic Entertainment Expo (E3) in Los Angeles.
Hirai's presentation highlighted the company's announcements and focused in particular on new dimensions of the PlayStation business. He provided a glimpse into the past and future evolution of the company's gaming business while also disclosing details about the company's long-term plans and the newest member of the PlayStation family of products, the PlayStation Portable.
"It's hard to believe 10 years have gone by since the first E3; our history as a company parallels the first show in 1995, as it was there that the original PlayStation debuted," Hirai said.
"Since then, Sony Computer Entertainment America has led the industry in all aspects of interactive entertainment, and our continued innovation — evolving our business through new dimensions — will drive this industry forward for many years to come."
Platform Lifecycles
Hirai stressed his company's focus on sustaining platform lifecycles, pointing out how the 10-year plan for PlayStation has altered expectations for platform longevity around the industry. He outlined the company's plans to make that long-term lifecycle a reality for the PlayStation 2.
The company's platform management, said Hirai, has furthered the financial health and stability of the interactive entertainment business. In fact, he said, the PlayStation 2 adoption rate in just its third year is 38 percent ahead of the original PlayStation's rate for the same time period. Additionally, the company anticipates more than 60 percent of PlayStation 2 software sales are still to come.
Hirai pointed out that the company's focus on "the casual gamer market" — while still cultivating Sony's core user base — will fuel the success of the company's 10-year plan as it attempts to match consumer trends and expand its audience.
The new PlayStation 2 price of US$149 — along with the bevy of new content also announced at E3 — is designed to entice new consumers.
Reach into Online Gaming
Hirai also pointed out that Sony is extending its reach into online games. Online gaming, he said, is the new reality TV. Both genres are top draws for certain demographics, and both provide, he argued, what today's consumers seek: competition, camaraderie and unscripted experiences in which participants control their own destinies.
In both genres, persistent worlds continue even when the camera or action stops. Success is sometimes based on alliances with other players, participants' personas come front and center, and the end result is typically based on defeating the enemy.
The company also outlined plans for an online gaming business model that will focus on a "minitransactions system" designed to give consumers the right to decide what they want to pay for and how much they want to spend.
New Lineup of Titles
At E3, the company also announced and showcased its new lineup of online titles. The new titles bring the number of online-game offerings to be available for PlayStation 2 by the end of the year to 100.
Further enhancing the company's platform strategies, Hirai said, is Sony Computer Entertainment's official worldwide debut of its new handheld game system, scheduled to launch in Japan at the end of 2004, with North American and European launches following in the spring of 2005.
PlayStation Portable — or PSP — will offer 3D games that incorporate high-quality, full-motion video in an experience "similar to PlayStation 2," he said.
PSP Specifications
PSP will come in a black case with a TFT LCD screen. The unit will fit in the user's hands. It also will come with the basic functions of a portable music and video player, such as built-in stereo speakers, exterior headphone connectors, brightness control and sound mode selection. Keys and controls on the unit will inherit the same operability of PlayStation and PlayStation 2.
PSP also will come with USB 2.0, 802.11b WiFi and a small, built-in optical drive in the new Universal Media Disc format. The newly developed UMD format is 60 mm in diameter but can store up to 1.8 GB of digital data.
A broad range of digital entertainment content — such as music video clips, movies and sports programs — can be provided on UMD. To safeguard this entertainment content, Sony has developed a copyright protection system that uses a combination of a unique disc ID, a 128-bit AES encryption key and an individual ID for each PSP hardware unit.