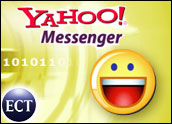 Yahoo yesterday announced a new public beta version of its Yahoo Messenger application. Leading the instant-messaging industry in time spent per user, at least according to recent reports, the latest version of Yahoo Messenger introduces several new features and deeper integration with Yahoo services.
The latest version of Yahoo Messenger is currently the only major instant-messaging service to provide consumers with access to preprogrammed or customized radio stations available directly in the instant-messaging application. It is also one of the first major instant-messaging services to offer consumers avatars, graphical and customizable characters that represent people, and audibles, which are expressive verbal animations.
In addition, the latest version of Yahoo Messenger is designed to improve people's ability to get the best of what they want from other popular Yahoo services. Integration of such services as Yahoo Games is designed to make it easier for fans to play two-person games, including chess, checkers and dominoes, directly in the instant-messaging window.
Deeper Integration with Yahoo Services
Deeper integration with Yahoo Search through new search shortcuts — which are built directly into the messenger app — is designed to make sharing results with friends easier.
New features, such as enhanced access to contacts — including e-mail and mobile information — through Yahoo AddressBook, and the ability to be seen by certain friends of choice through the stealth mode feature, provide an easy way for people to manage relationships and communicate in real-time.
"With this newest version of Yahoo Messenger, we are changing the instant messaging landscape by introducing new ways for people to express, share, and manage, making instant messaging more essential to their lives," said Lisa Pollock Mann, senior director of messaging products at Yahoo.
"By integrating unique features with compelling services from across our network, Yahoo! Messenger continues to enable powerful interactions between friends and family," Mann said.
New Features in Yahoo Messenger
With this newest version of Yahoo Messenger, Yahoo is attempting to build on its history of instant-messaging developments. The new messenger, available for free, includes the following new features:
Launchcast: Yahoo Messenger consumers can listen to customized or preprogrammed radio stations directly from their Yahoo Messenger application, which is now fully integrated with Launchcast, an Internet radio music service. In addition, consumers can choose to display the current song title playing in their Launchcast station as part of their status message. This allows others to tune in with them by joining their station and discovering new music.
Yahoo Avatars: Yahoo Messenger is one of the first major instant-messaging services to offer consumers the ability to choose an animated, graphical and customizable character representation of themselves. Avatars can convey moods and react to emoticons through expressions, and they can be personalized with clothing and accessories to further enhance users' self-expression.
Yahoo Audibles: People can send these verbal animations directly from the instant-messaging application and can use Audibles to flirt, taunt, say hello or express attitude. Users can choose among various categories. There are 24 Yahoo Audibles to choose from.
Yahoo Emoticons: This edition of Yahoo Messenger includes 13 new emoticons in the menu, such as "Rolling on the Floor Laughing" and "Sigh."
New IMVironments: New instant messaging-themed backgrounds that appear directly in the IM window include Baseball, Home on the Range, Mountain Dew and Got Milk.
Yahoo Games: Friends now can play two-player games — including chess, checkers, dominoes, pearl hunter and word racer — directly from the instant-messaging window. With the new games tab, users can see how they stack up against their friends by comparing their high scores for single-player games.
Yahoo Search: Users now have access to search the Web via a query box integrated directly into the instant-messaging application. Yahoo Messenger consumers also can type search shortcuts directly into their conversations and can share results instantaneously with friends.
Stealth Mode: In addition to signing in as invisible, consumers now can appear online or offline to specific friends or groups, making it easier to manage personal interactions.
Yahoo AddressBook: Users now can communicate with their Yahoo AddressBook contacts directly from Yahoo Messenger. As a launching pad to Yahoo Mail, people can send e-mail directly from their Yahoo Messenger friends list and from within the instant-messaging application. In addition, people contacting their friends through the mobile messaging feature now have access to wireless phone numbers with the enhanced AddressBook tab.
Using IM in Business
Users who rely on instant messaging for business can eliminate many of Yahoo's novelty features. For example, a user can designate an animated avatar to be pictured in a message to a friend and a static icon for communication with a business contact.
Messenger users already were able to sign in as "invisible," which allows them to see which buddies are online but not appear to them, but the update extends that feature, allowing users to appear visible to selected buddies only while remaining in stealth mode to others.
As before, content tabs on the interface can be configured according to work or home preferences, giving users the option to show only the ones they use. Interface settings are stored on local PCs, allowing different experiences at work and at home. However, the new version is likely to be incompatible with Trillian and other third-party programs that create a composite interface for several IM products.
The company cites a study by the Radicati Group that forecasts 305 million IM users worldwide by the end of the year. Most of those are young adults. A Pew Internet & American Life Project study found that college students are twice as likely to send instant messages in a day than other Internet users, and that 74 percent of online teens use IM.
Yahoo notes that Gartner researchers expect instant messaging as a communication technology will surpass e-mail as the primary online communications tool by 2005.