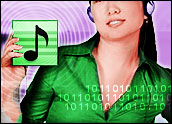 File-sharing applications are among the most popular uses of the Internet today. According to the market research firm Big Champagne, an average of 9.5 million Internet users are simultaneously logged on to use file-sharing applications at any given time of the day to share music, videos, applications and other digital media — a fact that does not please the Recording Industry Association of America.
In fact, the RIAA has taken several steps over the past year to stem the flow of what it considers to be wholesale music piracy. Last month, for example, the RIAA filed nearly 500 more lawsuits against alleged music file-sharers. This action brings the total number of individuals it has sued to roughly 3,000. The RIAA suits against file-sharers began in September 2003, and, despite many reports to the contrary, the RIAA says it is having a positive effect on the amount of illegal file-swapping.
In contrast to the unchecked flow of pirate MP3s on file-sharing networks, there are plenty of legit services that offer, at a cost, a wide range of digital music. But while iTunes, Rhapsody, MusicMatch, Napster, Sony Connect and several lesser-known digital music sites are charging roughly US$10.00 per album and roughly US$1.00 per song, another player has emerged on the international scene and is making big waves: MediaServices' AllofMP3.com.
AllofMP3.com, based in Russia, has been controversial from the get-go, charging for legit music not by the song or by the album, but by the megabyte. The company caters to every kind of musical taste with a huge library of legitimate music. While many have questioned the legality of the service, AllofMP3.com assures its users that the service is above-board legitimate. The cost per song through the service works out to be about 5 cents, with the cost per album works out to be 65 to 75 cents, depending on the album size and the format requested by users.
Many consumers who are accustomed to paying $1.00 per song and a minimum of $10.00 per album typically raise an eyebrow suspiciously at the prospect of such a low-cost service, which offers nearly all its music in AAC, MP3, OGG and several other formats. How can this service be legal? How are artists compensated? How does the RIAA even allow the site to function? And why are users not migrating in droves from the higher-cost services like iTunes and Napster? With these questions in mind, TechNewsWorld turned to MediaServices CIO Vadim Mamotin for an exclusive interview.
TechNewsWorld: First off, can you tell us what motivated you to create AllofMP3.com?
Vadim Mamotin: People love music. As digital audio and mobile technologies improve, interest in digital music will only increase. Several years ago we somehow foresaw this situation and thought we could create an Internet store to provide people — both experienced and inexperienced computer users and audiophiles — with a quality service and a wide assortment of music. We obtained all necessary licenses and started our hard work. What will become of it in the long run, our users will decide.
TNW: Have you been approached by the RIAA or other media organizations to stop selling music so inexpensively?
Mamotin: The RIAA didn't address us directly. As far as we know, several legal owners' organizations contacted ROMS — the equivalent of the RIAA here in Russia — wishing to obtain more specific information on our service and its legality. No suit was brought against us.
TNW: What do you think of the RIAA's current process of suing music users to prevent them from sharing music online through Kazaa, Morpheus, LimeWire and the other P2P music networks?
Mamotin: From our point of view, peer-to-peer networks are the natural reaction to the high cost of MP3 (and other audio) files at music stores of official distributors. We think the RIAA and other remedial organizations are acting badly in trying to sue music users. Lawsuits against users is only a temporary, insufficienly considered solution that will be found ineffective in the future. We think the only way to force users to pay for the music is to provide users with rich services for less cost.
TNW: Is your service legal from an international perspective, or just in Russia?
Mamotin: Because we have ROMS licenses, it would be more appropriate to address this question to ROMS.
TNW: How do you respond to questions about artist royalties, when you charge so little per song and peralbum?
Mamotin: We pay all royalties according to our license, which we have obtained from ROMS. These royalties allow us to keep our prices at their current level.
TNW: Can you talk a little about the technology behind what your service offers, in terms of the multiple formats? No other service offers as many different formats asAllofMP3.com.
Mamotin: A variety of available encoders and file formats allows our users to obtain what they want. We attempt to satisfy all our users, so we consider all essential requests to be important. Generally, we work in two slightly different directions: We want to satisfy those who are not that experienced in audio technologies and also the advanced, competent audiophiles.
Of course, most of our users download regular MP3s encoded with default parameters, but there are also those who choose other encoders and want to control all encoding parameters. All of these users are more than welcome.
TNW: In terms of the current most popular service in the world — iTunes — do you identify Apple as your primary competitor?
Mamotin: We do not compete with foreign services. We work basically for the Russian users.
TNW: Are you planning any marketing efforts in the U.S. or other countries to promote your service?
Mamotin: We didn't plan such efforts and do not plan them in the future. We intended our service initially to be for Russian users. But, of course, those who come to our site from abroad are welcome and are provided with our full service.
TNW: When did the service officially debut?
Mamotin: In August, 2001. In its present form, it debuted in November 2003.
TNW: When did you launch an English-language version?
Mamotin: The English version has been developed simultaneously with the Russian one. This is because certain problems with Russian language-encoding standards existed when we launched, so we addressed this by offering two language versions simultaneously. There are also many our nationals living outside Russia who prefer to browse our English part of the site.
TNW: What percentage of your customers are from outside Russia?
Mamotin: It is insignificant. Our service has been created for Russia and based on Russian legislation.
TNW: What do you think will happen in the future of online music distribution?
Mamotin: The consumer always prefers services with a variety of abilities and features. The more technological features are provided by the service, the greater popularity it has. We think that in the foreseeable future, the prices of online music stores will drop because of the constant pressure from the direction of peer-to-peer networks and their growing popularity and availability.
TNW: Are you planning any partnerships with any hardware vendors, like iRiver, Creative Labs or Rio?
Mamotin: We carry on negotiations with different manufacturers of MP3 and audio equipment. At present we are cooperating with Samsung.
TNW: What other digital formats are you planning to offer in the future?
Mamotin: Recently, we have implemented the support of WMA 9 Lossless, Monkey's Audio, OptimFROG and FLAC. Our users are able also to download uncompressed source CD-DA data as wave files. Technology never stands still. New audio-encoding techniques and formats will be developed. If these technologies will become popular, we'll include their support at AllofMP3.com.
As to our other plans. We will continue to develop our AllofMP3 Explorer. This program is a fully autonomous part of our service that makes the work with our services much easier and more convenient.
TNW: Many users in the United States are leery of using their credit cards on International sites, because outside the U.S., there is no direct way to appeal againstcredit card theft or identity theft. How are you working to assure users that their information is safe?
Mamotin: First of all, the security of any transaction depends to a large extent on the payment-processing company. If it is banking company and it has international certificates from Visa, MasterCard, Diners Club and so forth, the probability of user's information leakage is insignificant. We use such a company — CyberPlat — for our financial transactions with international clients.
In fact, we do not directly access the information from user credit cards. We get only notifications about successful transactions. We know that many people are leery of buying anything on Russian sites or are leery of using their credit cards on the Internet at all. It would be ineffective to try convincing these kinds of users of our honesty.
The only way we see it is to advance our good reputation, provide users with as good support as we can and answer all questions of our current users.