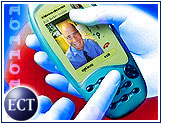 Details of five new mobile devices, a software roadmap overview, new mobile infrastructure equipment and updated 2004 volume projections all featured prominently among the news at the annual Nokia Connection conference held today simultaneously in Singapore and Helsinki.
Chairman and CEO Jorma Ollila introduced the new products, claiming that the five new mobile devices would result in a stronger and more competitive product range. With the new products including three clamshell phones and what the company is calling "the world's smallest 3G GSM-WCDMA phone," Ollila said the company now has "sharpened [its] product portfolio in key areas, bringing to the market new phones in the midrange and adding more clamshells to [the company's] offering."
Nokia's software plans were also outlined as Nokia announced the second edition of the Series 60 platform designed specifically for smartphones. The new edition focuses on applications tailored for business in different types of networks. Stressing the ability of both Series 40 and Series 60 to support the customization of operator services, Ollila drew attention to Nokia's cooperation with operator customers and reaffirmed Nokia's resolve to respond to changing customer and market needs by strengthening its efforts in these areas.
Nokia also updated its mobile device volume estimate for 2004. "For 2004, Nokia sees the global mobile device market volume reaching approximately 600 million units, of which about one-third will be camera phones," stated Matti Alahuhta, executive vice president of Nokia.
A Thriving Industry
Clearly the industry is thriving. Throughout 2004, around 800,000 new subscribers have joined the mobile world every day. "As a result of fast growth in the number of new subscribers, we now expect the mobile subscription base to reach two billion in 2007, one year earlier than our previous forecast," Alahuhta added.
Nokia also revised its previous first-quarter global mobile device market volume estimate to 141 million units. Nokia's first-quarter sales were 44.7 million units, representing market share of close to 32 percent.
Globally, there are now almost six million 3G WCDMA subscribers, and Nokia anticipates that 2004 will be a pivotal year for 3G WCDMA. Indeed, analysts estimate that over 60 commercial 3G WCDMA networks will be in service by the end of the year. The company's aim to fulfill the promise of 3G was demonstrated by the launch of the Nokia 6630 mobile device in an attempt to bring 3G to the mass market, and the new Nokia MetroSite50 base station for 3G WCDMA deployment.
Overall Network Infrastructure
Nokia reiterated its earlier-stated expectation for slight growth in the overall network infrastructure market in 2004. Sari Baldauf, executive vice president and general manager of networks at Nokia, highlighted Western Europe's role in the deployment of 3G WCDMA: "During the first five months of 2004, we have seen the commercial launch of 20 3G WCDMA networks in Europe, which is very encouraging."
Taking a global view, Baldauf also highlighted Nokia's legacy and continuing focus on the United States, pointing out the company's roadmap for HSDPA and the upgrade path the company offers to operators. Nokia also stressed the strength of its position in 3G WCDMA, having supplied 15 of the 33 commercially deployed networks to date, with 43 operator 3G WCDMA references in all.
Phones, Phones and More Phones
Midrange clamshells and products for new markets also took center stage at the Nokia event. Nokia's newest 3G phone, the Nokia 6630, boosts personal information management in 3G WCDMA networks with secure access to corporate intranets and e-mail at mobile broadband speeds. According to the company, the Nokia 6630 is the first dual-mode, triband handset designed to work on 3G WCDMA, EDGE and 2G networks in Europe, Asia and the Americas.
Nokia also launched the Nokia 6260 phone, a business phone designed for mobile professionals. It offers some of the latest mobile applications, including push-to-talk, e-mail, Bluetooth connectivity and a VGA camera. The triband Nokia 6260 smartphone is based on the Symbian operating system and on the Series 60 smartphone platform.
In the midrange, the Nokia 6170, also announced at the show, is a clamshell camera phone that combines stainless steel design with a feature set designed to enhance the consumer experience. The strength of this phone, according to Nokia, is its flexible messaging options: e-mail, instant messaging and push-to-talk technology all in one handset.
The remaining two phones announced at the conference are designed to enhance Nokia's product offering toward mobile subscribers in growing markets. The Nokia 2650 is an affordable, small clamshell phone with a color display. It is Nokia's first color display phone in the entry-level category. Of particular interest in this phone is the spreadsheet application for bookkeeping.
In addition to the phones, Nokia launched a foldable keyboard with wireless Bluetooth connection. It serves as an extension to Series 60 phones like the Nokia 6260 and Nokia 6630, enabling text input to phone applications, including e-mail. The wireless keyboard is compatible with Series 60 phones with Bluetooth support, and is targeted at business users.
Wrapping Up the Conference
In summarizing the new strategies and technologies, Ollila touched on Nokia's plans to strengthen the focus on research and development and renew its product portfolio.
"Earlier this year we said we would renew our product portfolio by introducing a range of new products. This has not changed," said Ollila. "During the spring, we have conducted a thorough analysis of our roadmaps; we have reviewed the timings and pruned our portfolio, adding some new products and accelerating others — and during this process, we have even killed some product plans."
As a result of this work, he went on to say, "I feel that we will have a much sharper and competitive product range to meet the expectations of both consumers and operators. All in all, we expect to launch a total of approximately 35 products globally this year."